If he hadn't switched to the Babolat Pure Aero in 2015, Rajeev Ram doesn't know if he'd have held up the men's doubles championship trophy at the 2021 and 2022 US Opens. Or be part of the No 1 doubles team on the ATP Tour. Or made it to No 56 in singles.
"I feel like it was a big reason I got to my career high in singles in 2016," he said. "And obviously, the career I've had in doubles, I think the racquet definitely has been a huge factor – the reason that I've been able to do it, and continue to do it.
"I'm an old-school player, and it has that sort of old-school feel with a lot more forgiveness and power that some of the other rackets didn't have. Once I found it, I haven't even thought one time about using something else. It's been great."
After playing the Newport grasscourt tournament (where he won both of his career singles titles) in 2017, Rajeev retired from singles to focus on what he hoped would be a lengthy career in doubles. Now 38, Ram has never been better. And he's found a partner in Great Britain's Joe Salisbury with whom he has risen to the top of the doubles game.
The two are the No 1 ranked team in the world for 2022, and are first and second in the individual doubles rankings. And in winning at Flushing Meadows they accomplished something that had only been done once in the Open era (since 1968) – defending a US Open men's doubles title.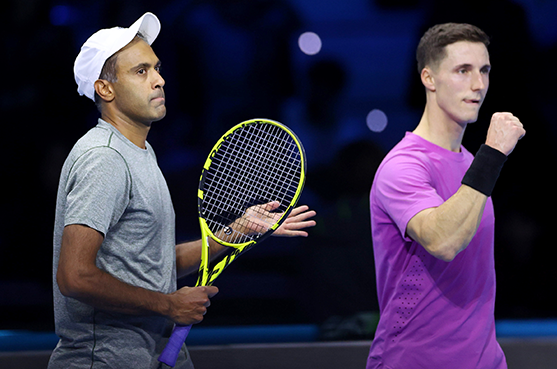 'Incredibly proud of defending title'
"I think winning the first time is incredibly special. But I think I'm more proud of the fact that we were able to defend, because I think it is harder to do that. The Bryan brothers actually never did it, which I wouldn't have guessed at all. It just goes to show that it's not easy to do," Rajeev said. "We're incredibly proud of it."
Bob and Mike Bryan won the US Open doubles five times, but never in back-to-back years. Even John McEnroe and Peter Fleming never managed it. Hall of Famer Australians Todd Woodbridge and Mark Woodforde were the only ones since 1968, and that was back in 1996.
The US Open was Rajeev Ram's third Grand Slam title, and the 25th overall of his career. And he's won them with 11 different partners; the last eight titles, including his three majors, have come with Salisbury.
Rajeev has won at least one doubles title every season since switching to the Babolat in 2015. The Denver native, who now lives in Carmel, Indiana, also has a silver medal in mixed doubles from the 2016 Rio Olympics, when he partnered Venus Williams. And he's still with the coach who has been with him since his early teens, Bryan Smith.
'It feels like I started tennis over again'
The only thing missing from his resumé is the individual No 1 doubles ranking. He rose to his career high of No 2 in April 2022 but was always behind his partner Joe Salisbury, who played one tournament without Rajeev and thus had a few more ranking points.
But it's never been about that; the key to this successful partnership has been the teamwork. "You have to figure out that relationship, that whole dynamic. I never had that in singles; it feels like I started tennis over again, in some ways," he said of the lessons he's learned. "It's something I never thought I would get out of just playing doubles. And it's been hugely rewarding to try and get good at it, if you will. Because it's a different skill set entirely."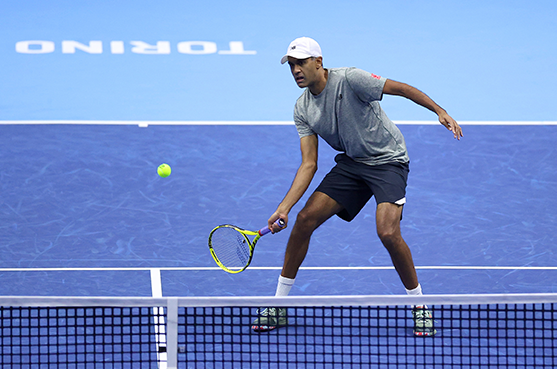 There have been disagreements and arguments. But there are coaches and team members around to act as buffers. And both know that anything they say is all about the best interests of the team.
"At the end of the day, the biggest goal is to be the No 1 team in the world. We got there in April and have hung on to it, which I think is a pretty good accomplishment – especially considering what we did last year. During this stretch (in 2021), we made a lot of points, and we basically defended all of them," he said.
And yet there remains in Rajeev Ram a tiny goal about being, if not the individual top-ranked doubles player, at least a co-No 1. "Hopefully I'll get a chance at some point to achieve that," he says, "I'd be more than happy with that."