Runners-up in Grand Slam tournaments often look disappointed at the trophy ceremony – after all, they have just lost a final – but Niels Vink looked devastated after losing the men's quad wheelchair final at the 2023 Australian Open. Yet only a day earlier he had achieved a career Golden Slam!
He had just been beaten by his fellow Dutchman and record-beating doubles partner Sam Schröder 6-2 7-5, but it was the 20-year-old Vink's reaction that said so much about him. "I don't mind losing," he said, his eyes still moist with tears an hour after the match ended, "but I have to cut out days like this. I played so badly, it was terrible."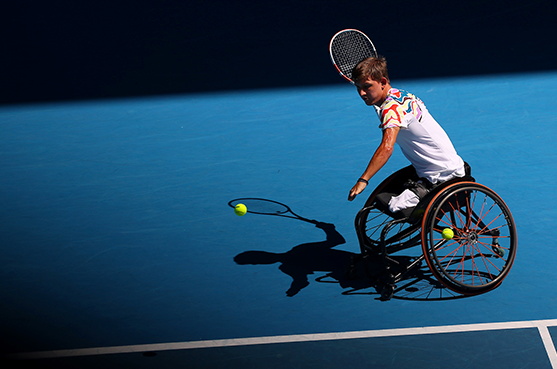 His performance was below his usual standard, but it was certainly not terrible. True, he gave his opponent a five-game start and only started playing after saving a set point at 0-5, and then squandered a 5-3 lead in the second set. But such are the high standards he sets himself that he was almost inconsolable.
Life-threatening infection
Niels was born in December 2002 in Helmond, the Netherlands, yet within the first two years of his life, he contracted the bacterial infection meningococcal sepsis. He survived the life-threatening condition, but he lost both his legs and several small bones in his hands.
At the age of nine his mother took him to the London Paralympics, and he fell in love with sport for disabled people. He tried several paralympic sports, and found tennis had the most resonance. "I immediately fell in love with it," he says, "I thought it was – and I still think it is – the coolest thing there is."
Fortunately, he was Dutch! Since wheelchair tennis emerged as a global sport in the 1980s, the Dutch have dominated the discipline thanks to a nationwide system of facilities and quality coaching that has spawned a succession of champions, headed by the phenomenal Esther Vergeer who is expected to be inducted into the International Tennis Hall of Fame this year.
At the age of 15 Niels won his first international title in only the second ITF tournament he entered, beating the top seed in the final. Speaking after the event, his coach, Hans-Jürgen Striek, said, "He's a very athletic and dynamic boy, but off court he's very quiet. He moves well and competes well on court, but when he's not playing he's very calm." Striek doesn't travel to all Niels' tournaments, and in the early days he shared the duties with Niels' mother.
Goals set, goals achieved
Niels' initial goal was to get to the Tokyo Paralympics. Not only did he achieve it, but he won bronze in singles and gold in doubles alongside Schröder. His next aim was to make it to the top of the quadriplegic wheelchair rankings – he had achieved that by the end of 2022.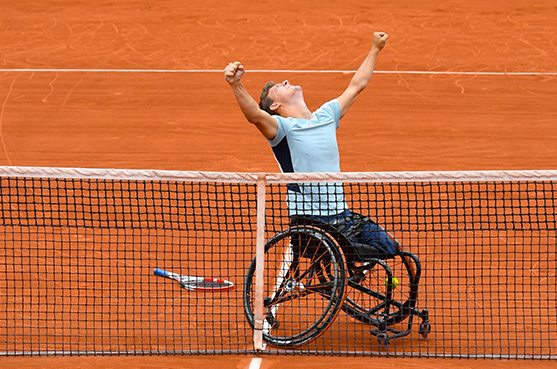 He also achieved a first for Dutch wheelchair tennis, which is not easy to do. He became the first Dutch quad player to be named ITF World Champion. It was clear that a Dutchman would win it in 2022 because Schröder and Vink had dominated quad tennis, but by finishing just nine points ahead of his doubles partner at the end of the year, the ITF gave the award to Niels.
"It is a really special and an amazing feeling to be named World Champion for the first time in my career," Niels said. "This was the best year so far for me. A few dreams became reality: I became world number one, I played in all four Grand Slams, I won my first and second Slam and three Grand Slams in doubles. On my own, I was never able to be in this position, so I really want to thank my team around me and a very special thanks to my coach Hans-Jürgen."
The day before the Australian Open singles final, Niels and Schröder achieved the career Golden Slam (all four major titles plus Olympic gold) by winning the Australian Open quad doubles title. They had lost the 2022 final to David Wagner and Andy Lapthorne, but went one better to hold all four Slam titles plus the paralympic gold medal.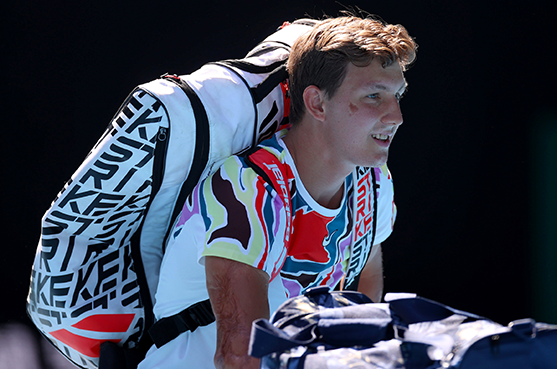 So what now? "I am very happy with what Sam and I have done together," said Niels. "To have all four is good, but now we want all four in one season." And he wants more singles titles to go with the Roland-Garros and US Open titles he won in 2022, plus more gold to add to his paralympic collection. To help him get there, he has set up his own website and funding page with the catchy name: nielsonwheels.com.
Asked after the Australian Open final what his goals are for this year, he replied, "To cut out days like this, that's for sure." Such determination leads followers of the quad wheelchair circuit to expect Niels Vink to dominate for several years to come.