It was nearly 50 years ago, but Lucien Nogues remembers clearly when he first saw a racquet-stringing machine. "I was working in a sports shop in Metz and there was a machine sitting there gathering dust," he recalls. "The girl who had previously done the stringing had left and nobody else knew how to do it. I'm very curious, and when I don't know about something I want to find out, so I taught myself how to work the machine, using an old racquet and a piece of string."
The whole sport of tennis – and especially those who use Babolat strings and racquets – should be grateful for Lucien's curiosity. Today there is probably nobody on the planet who knows more about racquet-stringing than the 72-year-old Frenchman. He started working for Babolat, running their racquet-stringing team at tournaments around Europe, in 1981, having been interviewed by Paul Babolat, the grandfather of the current CEO Eric Babolat.
The family-owned company, founded in Lyon in 1875 by Pierre Babolat, was the first to use natural gut to make racquet strings and has always been at the forefront of technological advances. Lucien's expertise was crucial as wooden racquets were superseded by carbon-fibre and cow gut, and man-made materials replaced sheep gut.
Science has helped transform the game, enabling players to hit with more power, control and spin. Lucien believes the strings can be just as important as the racquet. "A bad frame with a good string is still usable, but a good frame with bad strings is like a Ferrari with a tractor engine inside it," he says.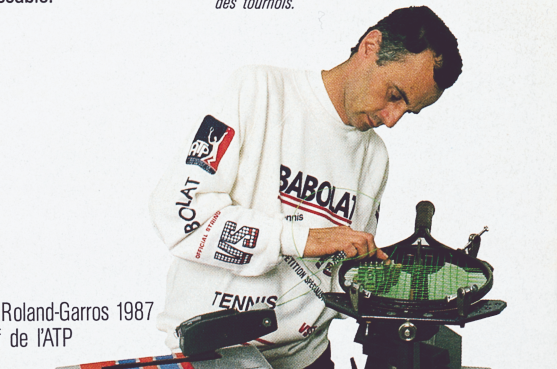 Babolat VS String Team: winner of 100+ Grand Slams
When Lucien first led Babolat's stringing team at tournaments, his only major concern was whether his English was good enough, but his knowledge and expertise quickly earned the respect of players. "They could be very picky, but that's because they knew exactly what they wanted," he said. "Players like Yannick Noah, Guy Forget, Mats Wilander and the Günthardt brothers were always very friendly towards me."
Several generations of players have subsequently come to trust Lucien (who now converses in French, English, Spanish, Italian, German and Portuguese), all the way through to the likes of Rafael Nadal and Dominic Thiem.
And he knows the importance of providing a personal service for players, even when there might be 20 stringers in a racquet-stringing team at a Grand Slam tournament.
"Generally players like to have the same stringer stringing their racquets, so we make sure the same stringer and same machine will be available for them every day," he says. "Players see the different ways that different stringers string racquets, how they make the knots. The way that each stringer weaves can also change the friction between the mains and the crosses. That affects the sound of the ball coming off the strings – and players like to hear the same sound when they hit the ball."
Professional Stringing can be a 20 hour per day job
At a tournament it will often be a member of a player's entourage who liaises with the stringers. "With all the crowds it might be impossible for the player to come to us, but if it's early in the morning it will often be the player himself who comes to have his racquets strung. During Roland Garros, for example, Rafael Nadal would usually come to see us two or three times."

Today's top players like to change their racquet after every change of balls and take up to a dozen racquets on to court. Nadal, however, takes only six. "He sends his racquet to be restrung at every change of balls," Lucien says. "We restring it and get it back to him on court as soon as possible."
Lucien Nogues's enthusiasm for his job is undiminished despite the demands. "At tournaments we might start working before 6am and we might not finish until 2am the next day," he says. "One stringer might do more than 30 or 40 frames a day. It can take 20 minutes or less to string a racquet, but you need time to recuperate because you have to concentrate so hard. It can be very stressful."
Although Lucien hardly ever has the time to watch a whole match at a tournament, he likes to take in at least some of the action. "I love watching players who have great fighting spirit, like Nadal and Thiem" he says.