There is still a sparkle in her eyes when Julie Cukierman talks about the time she was preparing some of France's best medal hopes for the London Olympics – both the French national fencing team as well as France's best badminton hope, Pi Hongyan.
Julie is one of France's most experienced physical trainers, in spite of her young age. She was only 25 when she was asked by the country's elite sports managers to take over the preparation of some of France's best prospects for the Games. But having been raised in a very sporting environment, she knew what she was talking about.
"I was brought up in a family where sport was omnipresent," she recalls. "My mum was a national kayak champion and my dad was a swimming lifeguard. And they both loved to play tennis all the time, so my sister and I basically spent all our free time by the side of a tennis court."
It was therefore natural for her to pick up a tennis racquet – and she became good at it. She also scooped an Under-11s national title in rhythmic gymnastics but chose to concentrate on tennis. Yet her greatest interest was always in helping others achieve their very best. "I had always wanted to be a physical trainer in order to prepare the best athletes for the peak of their careers," she says.
'Sweating like I've never seen before'
Julie studied sports sciences at Orsay University, then went to the INSEP – France's National Institute of Sport, Expertise, and Performance – to become an expert in preparing bodies and minds for high-level challenges. "I was asked to look after the fencing team – who at the time were the épée team reigning champions from Beijing 2008 – and the Babolat team behind Hongyan asked me to help her prepare for what was to be her last Olympics. It was a very big challenge because her body was in bad shape from all those hard training years in China and she had just been affected by a serious knee injury."
As with all physical trainers, Julie focused on two major goals: preventing injuries, and making sure that her athletes would be at the peak of their physical possibilities for the Olympics. "It was an incredible joy to be by their side during the six to eight months that we had together," she says. "But it was also incredibly hard work, with a lot of pressure because of what was at stake.
"As for Hongyan, I don't think I've met anyone as hardworking as her. She was a beast, ready to die on court, or at the gym, sweating on the bike like I've never seen before. When practising or playing, she had a very strong character, so she was not afraid to say when she was not happy and I had to adapt my work, like I did with many top athletes – most of them have big egos and very strong personalities. But off court, Hongyan was just the sweetest and most humble girl. We have kept a very strong relationship since then, and we often keep in touch, even 10 years after the end of our work together."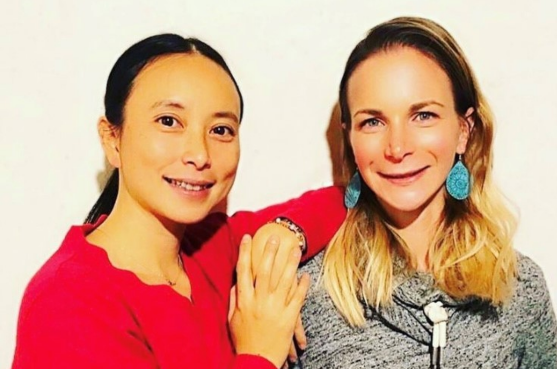 Leaving the hassle of Paris
Julie's hard work helped Hongyan to perform to the highest level she could hope for given her tired body, and she managed to reach the last 16 in London. Even if Julie wasn't in London, she describes the whole process of preparing Hongyan and the fencing team as just extraordinary. "As an athlete, when I was younger, travelling all around France as well as later as a physical coach, close to all these amazing athletes was incredible. I think that high-level sport brings emotions that one cannot experience anywhere else."
But Julie is not just interested in high-level sport. After leaving INSEP, she helped a number of 'normal' people get back in shape and is keen that sport at any level is something that everybody should do. "Everyone should practice sport regularly," she says. "It's essential to one's wellbeing, physically and mentally. Sport should be a way of life. We are all so much stressed out by our everyday work and challenges that we forget to take care of ourselves. The time during Covid helped some people realise that they could take some time off, but I hope it will be a long-lasting wakeup call."
As part of her continuing work with Hongyan, Julie helped create a series of written and visual tips about how to become a better badminton player. Working with Babolat, the two produced a series of 11 tips on the right exercises for leisure players to achieve optimum fitness, which are available here.
Julie has left the hassle of Paris life to find peace in Serre Chevalier, in the heart of the French Alps, where she takes care of her two young children, sometimes organising sport and yoga retreats with a colleague. But since her husband is a badminton coach in a local club, racquets and shuttlecocks are still very much part of their daily conversations.