Babolat x Wimbledon
At the Heart of Tennis
Two historic brands which have been elevating the sport for more than 145 years, are continuing to bring passion to all Tennis lovers.

In addition of being the official supplier of Tennis rackets, Tennis bags and Tennis shoes, Babolat becomes the official stringer of the most prestigious tournament, Wimbledon.

As part of this standing partnership, Babolat has released a new collection of Wimbledon-branded products.
100 years
of History
2022 marks the centenary of the most emblematic court in the world. The Center Court is witness of unforgettable moments in the Tennis history.

For Babolat, our story begins with its first venture into the world of sport in 1875, when tennis was still in its infancy.

It is the union of two brands which have contributed to the invention of tennis and its development.
The Wimbledon Collection Worn by the World's Best Players
Babolat, the ultimate stringing expert
Who else but Babolat to be the official stringer of Wimbledon?
Babolat invented tennis string from natural gut in 1875. And we've been innovating ever since with technological advances and player driven innovations specifically for tennis string.
Your strings are as important as your racquet. Or as we like to say, "your strings are the engine of your racquet".
Wimbledon Collection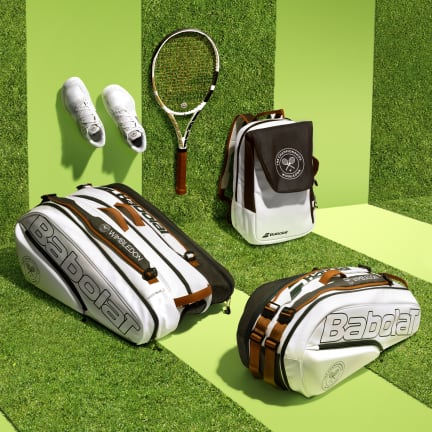 Pure Collection

Dedicated to intensive players, a product range with a modern and vintage design directly inspired by the legendary British Grand Slam.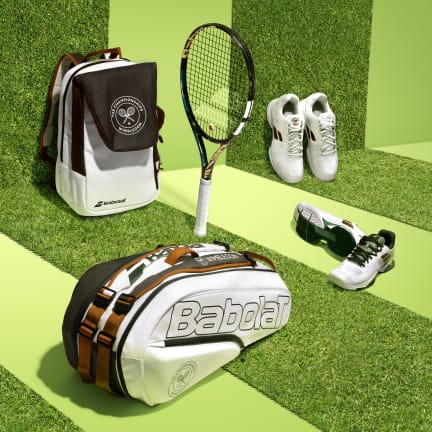 EVO Collection

Designed for performance and comfort, the EVO range allows players to reach their full potential while expressing their love for the game.