Catching a big pickleball point in full frenetic tilt is like seeing a volcano erupt—you can't avert your eyes until it's over. Babolat felt that same buzz and draw with pickleball, and saw something bigger: the chance to be part of the sport as it morphed from a hit-and-giggle game at picnics into a high-energy athletic contest with top pros.
Pickleball – a hybrid of tennis, badminton, and ping-pong – is obsessed over by kids, young adults and seniors, and is one of America's fastest-growing sports. The numbers don't lie: During a five-year span from 2016 to 2020, pickleball participation in the United States nearly doubled from 2.5 million to 4.2 million, while Americans' overall activity level stayed flat, according to the Sport & Fitness Industry Association.
Membership at USA Pickleball, the sports' governing body, has exploded by more than 1,000% over the same span. Racquet clubs are converting tennis courts to pickleball courts. Diehard fans check out YouTube to root on budding superstars who play with innovative and cutting-edge equipment.
Babolat jumped in the pickleball pool with both feet by introducing two families of paddles in 2020. About the size of a school notebook, the paddles connect with a molded plastic ball with holes making a distinctive thwacking noise. Pickleballers can rally from the back of the court or come to the net, however, they must stay out of the "non-volley" zone called the kitchen, except to retrieve a bouncing ball. The pickleball court is a little smaller than the court used for the game of padel, a mix of tennis and squash popular in Spain and played in an enclosed court surrounded by walls of glass on a court roughly 25 percent smaller than a tennis court.
Just as skiers eventually came around and shared the mountain with snowboarders in the early 1990s, tennis and pickleball players know they must co-exist.
"For years, there's been some conflict between tennis and pickleball in the United States," said Susan DiBiase, co-leader of the Babolat pickleball project. "Many players, clubs and even the USTA saw pickleball as a threat to tennis real estate and tried to block it. Now that clubs and facilities are realizing new revenue streams from pickleball and can invest in infrastructure upgrades to their tennis facilities, even tennis players are seeing the benefits of a peaceful coexistence. And thanks to new leadership, the USTA is more open to the idea that pickleball may be a feeder into tennis, not a bleeder. We see it as a total plus to the brand and a welcome addition to the stable."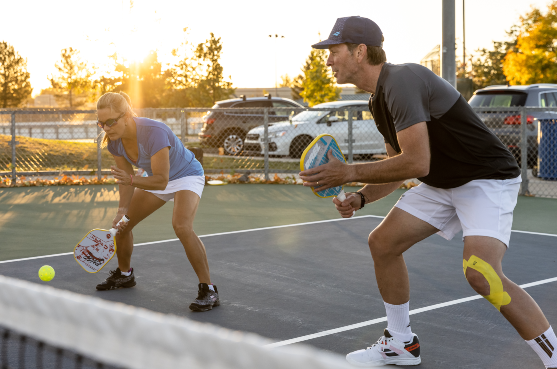 BPKL Launched
The Babolat pickleball project wanted the brand to be different, something unexpected and catchy. So BPKL was introduced, which can be pronounced saying the letters B-P-K-L, or more commonly "be-pickle". The similar uppercase and consonant-heavy naming convention is used for the creatively designed paddles. BPKL launched with two high-performance paddle families: the RBEL and RNGD. Each paddle family features a "power" and "touch" model.
In the summer of 2021, Babolat will unveil the MNSTR and XPLR ranges. MNSTR paddles will feature technology found in Babolat's tennis racquets and have garnered rave reviews during extensive product testing. The XPLR paddle offers all-around playability and is a great paddle for picklers just entering the sport.
Join The RBELYON
Vowing to be "never boring," BPKL has placed a call to action out to all pickleball players to "Join The RBELYON," a fun and exciting way to experience the sport and take part in the pickleball party. RBELYON plays off the words rebel and Lyon, a nod to the international headquarters of the world's oldest racquet sports company, dating from 1875.
The Babolat pickleball team spent several years observing and studying trends in pickleball, which was invented in 1965. Nationwide, 42 BPKL RBELYON ambassadors promote pickleball by leading grassroots efforts, encouraging paddle demos, and are continually attracting younger players to the sport. A recent study showed that 28% of pickleball players are under 30.
The 35 Babolat employees based at Babolat's U.S. headquarters in Louisville, Colorado since 2000, and 10 nationwide sales reps, saw more and more tennis players converting to pickleball and the sport getting younger and younger. They would return back from vacations detailing what they had witnessed: players young and old laughing after every point, doubles partners high-fiving, and everyone sticking around after a few first-to-11 games to enjoy their favorite beverage. This was no longer a sport for people who could no longer play tennis. Some who had never even touched a tennis racquet were getting hooked on the game.
BPKL is here to stay and Babolat's plan is to grow the brand along with the growth of pickleball. While there may be conflict among some factions within tennis and pickleball, Babolat sees only good times ahead for two great sports.