One of the most satisfying and heartrending partnerships Babolat is involved with is one that is not primarily about tennis or sport – but it uses tennis as a tool to help some of the most disadvantaged children discover their self-esteem.
The initiative is 'Fête le Mur', and it was set up in 1996 by Yannick Noah, the last French male player to win a Grand Slam tournament when he won at Roland Garros in 1983. Noah's own story is remarkable: he was discovered by chance by the great American player and civil rights activist, Arthur Ashe, when Ashe was on a visit to Cameroon in the 1970s, a visit which ended with a visibly impressed Ashe giving the young Yannick one of his racquets as a gesture of encouragement. That story of discovery plays a big part in why Noah set up Fête le Mur.
Noah wanted to give something back, and during a violent general strike in late 1995, he decided to do something for the children of the most underprivileged areas. So he set up an initiative to introduce them to tennis – as a vehicle to help them escape from their life of impoverishment.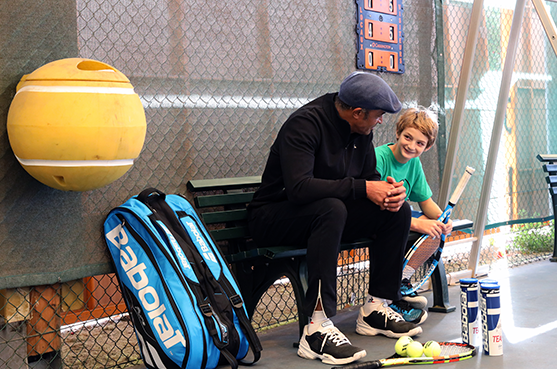 He hired Sévérine Thieffry, whom he had got to know through his player management agency ProServe, and she still runs Fête le Mur 26 years later.
"We originally called ourselves 'Raquettes en banlieux' (racquets in the suburbs)," Sévérine says, "but after a short time we felt we needed something different. In French the phrase 'faire le mur' means to escape in the sense of going over the wall, so we felt the phrase was a good basis for our name. After all, we are encouraging youngsters to get out of their unpromising estates, to go over the wall and find a better life. And because we are a joyful organisation with lots of festivals, we played on the phrase with the word 'fête', meaning a festival or celebration. So we called ourselves 'Fête le mur', which doesn't really translate but you could say means a celebration of leaving the ghetto."
Recycling racquets
In the course of its 26 years, Fête le Mur has grown to the point where it has over 70 initiatives across France and its overseas territories (places like La Réunion, Martinique, Guadeloupe, New Caledonia). And it has also grown with some of Yannick Noah's original partners, notably the clothing company Le Coq Sportif and his supplier of strings, Babolat.
"We provide all the goods they need to make the Fête le Mur centres work," says Yoann Chartron, Babolat's brand activation manager. "Fête le Mur works with children from the most disadvantaged areas, so there is no money to buy racquets, balls etc. We're talking about areas in cities where there is little or no tennis activity, so we make racquets, balls and strings available, along with other on-court accessories such as ball baskets and mini tennis nets. The balls are junior balls coded green, orange, yellow and foam.
"Not all the racquets are brand new, but that's not the point. When we receive back junior racquets from players and coaches, we often send them to Fête le Mur, because they are still good enough for the kids to use. And they serve the purpose – they give youngsters the equipment to become acquainted with tennis."
Fête le Mur also sends teams of young players from all its centres – on the French mainland and overseas – to an annual tournament run by the French Tennis Federation for which Babolat provides the balls, as well as prizes for the winners and finalists.
'Self-esteem is our purpose, not tennis'
The success stories from Fête le Mur's 26 years are heart-warming. A recent survey of beneficiaries from the early centres showed numerous alumni having gone to university, set up their own companies, started their own families, and generally built a life far removed from their expectations as children growing up in some of the most deprived areas.
But there's one question that keeps coming up that Fête le Mur brushes away: when will someone who escaped their life of underprivilege thanks to Fête le Mur introducing them to tennis end up lifting a trophy at Roland-Garros?
"That's not our objective or our purpose," says Sévérine Thieffry firmly. "We want the kids to build their own life, and to find their own qualities. Our job is to tell them that they have qualities and they should develop them – we deal with building self-esteem. Tennis is not our purpose, tennis is the tool we use to lead kids to a better life than they would have had otherwise."
But there is a link with Roland-Garros that makes the point about Fête le Mur's wider remit. It has developed a tennis officiating programme, which has led to four or five alumni working as line umpires at Roland-Garros each year for the past 15 years. It began when a chronically shy girl from Pau named Zara wasn't keen to play tennis but a camp official got her umpiring; she ended up becoming a professional umpire, and now has a degree in business and marketing.
Babolat's involvement with Fête le Mur is fairly low-key – the company recognises the work done by the Sévérine Thieffry and her team and is happy to contribute where it can. For example, earlier this year it provided a welcome pack for a group of 18 Fête le Mur youngsters in Paris who were invited to take part in "Kia Clubhouse", a new initiative by the Kia car company and Rafael Nadal. The pack included Babolat tennis equipment and other items aimed at generating a lifelong love of the game.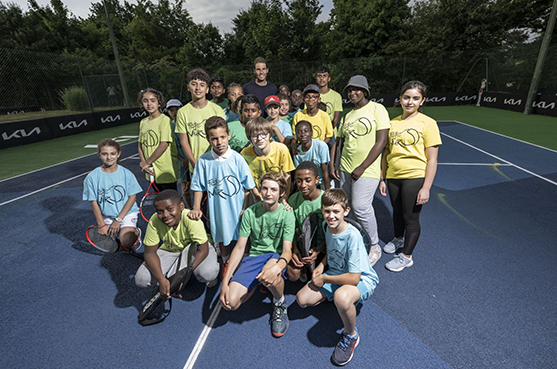 Yoann Chartron says, "We at Babolat are proud to be associated with a lot of companies, but our links with Fête le Mur add an extra emotional direction. When we see what opportunities these children get to break out of a cycle of poverty and underprivilege, we are humbled to be part of the initiative. It's not just that some kids play tennis who would never be able to play if it weren't for Fête le Mur, it's that our equipment plays a small part in helping these young people find a more fulfilling life. As a family company, we are so pleased to be part of the Fête le Mur initiative, if only a small part."