The year was 1999 and Jeff Bourns was an 18-year-old high school senior looking for inspiration. Sitting in his prosthetic and orthotic practitioner's office for another adjustment to his artificial right leg that has been his reality since he was a young child, Jeff sat back and thumbed through a magazine.
He settled in on an article about the Paralympics, picture after picture showing other amputees and adaptive athletes competing against each other in sport.
"I read that article and said, 'Hey, that's cool. I can do that too,' " he says. And that's exactly what he has been able to do as a member of the extended Babolat family and a Babolat brand ambassador since 2016. Just three years later and ranked among the top four players in the world adaptive standing tennis rankings for his classification.
Adversity and competitiveness have been twin themes of Jeff's life. The loss of his right leg to amputation below the knee at age two because of a congenital birth defect never slowed him down. Nor did an extension of the amputation to above the knee when he was nine. Nor did Tethered Spinal Cord Syndrome at age 10 that led to the removal of a tumour growing on his spine and left him with severe nerve damage.
An avid athlete growing up, Jeff had always competed. Swimming, baseball, basketball, football with friends, roller blading, mountain biking. He even played on his high school tennis team. Reading that article about the Paralympics was his gateway into the world of top-level amputee sports. "Up to that point I had never met an amputee my age," said the 40-year-old American, who lives in Clear Lake City, a suburb of Houston, Texas, "so I was excited to see what amputee sports were about. And I wanted to have an opportunity to compete against others like me."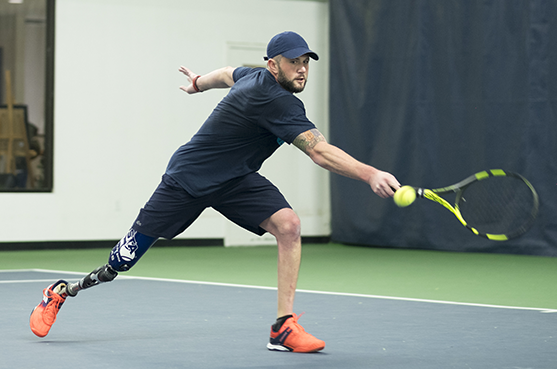 International adaptive standing tennis
His health struck again in his late 20s, when he needed major spinal cord surgery, but again he bounced back. He joined a wheelchair tennis programme in Houston, but just like he did as a kid on the court, he found himself standing on his prosthesis playing ambulatory (standing up) instead of in a wheelchair.
He searched for adaptive tennis programmes for amputees who played standing, but had no luck. So in 2014 he started an amputee tennis programme, and soon after came to the attention of the United States Tennis Association. He was selected to serve on the USTA's Texas adaptive and wheelchair committee with the goal of increasing awareness about the sport of adaptive standing tennis.
"I always enjoyed tennis, just hitting the ball and putting pace on it," Jeff said. "I always enjoyed the strategy and tactical part of it. Playing against able-bodied kids I had to learn how to serve big and close points fast to save energy for the entire match. I also enjoyed learning more about myself post-match. But now in later life it has become more about making new friends and creating new opportunities for people to play."
Jeff discovered a group in South America that had started an international adaptive standing tennis tour – the TAP World Tour – and in 2015 he became the first American to play in an event advancing to the quarterfinal of the Masters Final TAP tournament in Chile. (TAP is the acronym for Tenis Adaptivo de Pie, or stand-up adaptive tennis in Spanish).
"I was fortunate to travel the world and spread the word about this really new concept of competitive tennis at a high level for the adaptive athlete," he said. "That's when we started talking about bringing an event to the US, and were able to do that in 2016 in Houston with the USA TAP Open."
People find inspiration in everything
Medical imperatives never leave Jeff Bourns alone for long, and now entering his 40s, he faces more surgery on his spine, followed by more physical therapy. But he's hopeful of being back on court before long, and in the meantime there's work to be done on improving recognition for adaptive standing tennis.
At present if you have a physical disability, wheelchair tennis is the only sanctioned route for the adaptive athlete to take. Jeff and others around the world are looking to garner recognition for adaptive standing tennis to become a sanctioned category of tennis just like wheelchair tennis.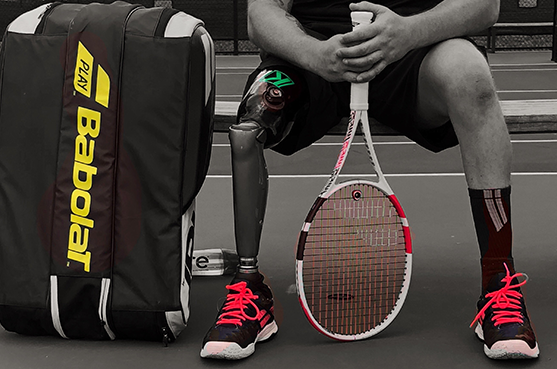 Being a part of the Babolat family means a lot to him. "In the beginning I struggled with it a little bit," he admits. "For a brief time I didn't feel like I belonged as an endorsed athlete. But they've done a really good job of supporting and encouraging me, saying, 'Hey, we chose you to represent us.' The family support is amazing, and they are not only invested in you as an athlete but as a human and person as well. They want to see you do well on and off the court. It really feels like a big family."
Jeff Bourns was often teased as a child for his disability, and found it wasn't always easy to compete against able-bodied athletes. But he never gave up or quit. "Inspiration is one of those words some people with disabilities struggle with," he says, "but people find inspiration in everything. You're not just an inspiration because you're disabled but people may look up to you and say you're an inspiration because you are out there and competing and you refuse to quit or let something define who you are. That's the kind of inspiration I want to be.
"Even if someone reading this article becomes inspired and goes on to have the opportunity to get involved in forms of adaptive tennis, that would be great."