Whether you're playing padel at competition level or have just discovered the sport, you'll know that a racquet is the main tool you need to be able to enjoy the game. But it's not the only thing you'll need if you want to have the best possible experience on the court. Here, we take you through all the elements you need to play padel and explain each one in turn. At Babolat, we have something for everyone.
In our last article, we explained the importance of padel shoes and which features to look out for. But there's much more to padel equipment than good footwear and a racquet. There's a whole world waiting to be discovered.
With so many different racquets, how do I know which one is right for me?
It's simple! Just follow these tips:
If you're just starting, the best thing to do is to get a racquet that's easy to play with and comfortable to use. Choose one that makes it easy for you to return the ball and enjoy yourself. Think of it as learning to drive. When you first get your licence, do you start by getting yourself a commuter vehicle or go straight for a high-performance sports car? The same reasoning applies to padel. You don't need the world's most powerful racquet if you're a beginner. You need a racquet that's suited to your level and physical ability.
If you're already a padel expert then you'll know which racquet is right for you – now it's just a case of keeping up to date so you can be the first to know when new models are released.
Great! So now you have your shoes and racquet.
What about balls? Which ones should I use?
It depends if you're playing with your friends and are looking for a slightly slower ball or if you're competing and need a fast ball that reacts well to special techniques. Different strokes for different folks!
Here at Babolat, we offer a selection of balls to go with our cutting-edge racquets. Padel balls are similar to tennis balls but there are a few differences in weight and pression. The lower the pression, the more comfortable the ball is to play with.
When choosing a ball, keep in mind that the longer the felt hairs covering the rubber are, the slower the ball will travel.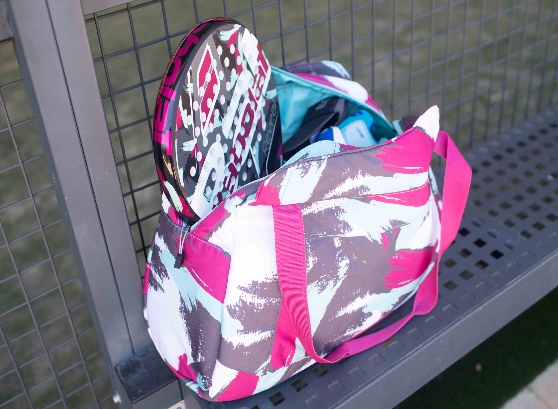 Where do I keep my shoes, my racquet and balls?
Simple: choose from the range of bags and racquet cases offered by Babolat!
Racquet cases are perfect for transporting and protecting racquets. Some models even have thermal insulation. It's important to protect your racquet from extreme temperatures. 'Take care when you leave your racquets in the boot of the car!'
All of the bags in our range have ample space for racquets, shoes, balls and clothing. Our bags are perfect for carrying your padel kit, but they can be used for any other sport or even as a gym bag. They're resistant and feature reinforced seams and several pockets for keeping all of your things in order. You can even use them for a weekend away! A good padel bag is a good investment.
What about clothes? I don't know what to wear!
Let's start from the top. Most padel courts are outdoors so it's important to make sure your head and face are protected from the sun. Caps or visors are best for open courts. They help to protect your eyes from light and sweat.
If you're practicing indoors, the sun won't bother you, but your hair might. The solution? A headband from Babolat. And for drying off sweat on both indoor and outdoor courts, we also have reversible sweatbands.
For those who like to look their best on the court, we have a whole range of t-shirts, shorts, and skirts, made from breathable, comfortable, and resistant materials of the highest quality. Certain styles are also perfect for other athletic activities.
As you can see, it takes more than just a racquet and shoes to complete your experience on the court. So why not take a look at our site? You'll be sure to find the perfect kit to suit your needs.