Babolat is adding two new models to its EVO line in 2022: EVO AERO and EVO AERO LITE ─ innovative, high-performance racquets delivering effortless power, comfort, and more spin.
Babolat EVO racquets are targeted at players who enjoy fun, energetic games more than competitive, play-to-win matches. The EVO line is for regular and junior players in search of their first adult racquet or more casual players who want a model that offers performance and playing comfort. The EVO line helps players up their game with its versatile racquets that allow for easier play and feature technologies that help them realize their potential and enjoy the game.
Designed to meet a need for power voiced by players, Babolat EVO racquets have a new construction and a 660cm² head for returning long, powerful shots from the other side of the court. Babolat has also integrated SMAC EX technology into these models for more comfort and increased shock and vibration dampening. Applied to four key areas of the frame, this viscoelastic material absorbs vibrations and delivers a softer sound on ball/string impact.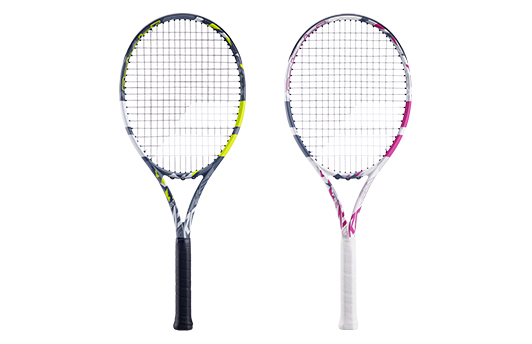 EVO AERO
Featuring a brand new 16x18 string pattern, the EVO AERO's aerodynamic frame generates easier spin on every shot. The strengthened trampoline effect delivers more power for less energy.

EVO AERO LITE
Lighter by 15 g, this model is ideal for juniors looking for their first adult racquet delivering easier play and more maneuverability to steadily build their game.