Nothing can take the smile off the face of 20-year-old Patricia Martínez when she talks effusively about the last few months of her life.
Since she moved to Mallorca to join the Rafa Nadal Academy last November as their first professional padel player, she cannot help but be happy. And she is currently sitting at 56th in the WPT rankings.
Yet she is also prepared to admit that the idea of blazing a trail to play for the biggest tennis star of all time in his new padel project was quite daunting at first. "Everybody made a big effort to bring me here and I didn't want to be a disappointment," she says. "I am the first padel player at Rafa's academy! But then my team made very clear that I could go at my own pace and they would be by my side.
"I am also grateful that I have the support of a sports psychologist. It gives me time to talk, reflect and decompress: everyone wants to win together, but we are in no rush and we are enjoying the journey."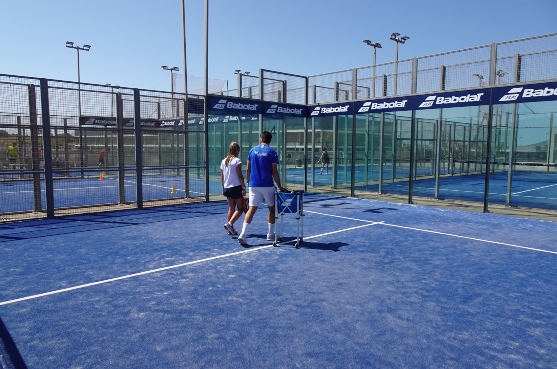 Not a trick of the mind
Patricia believes what she is learning in sport therapy sessions is not just a trick of the mind – it reflects the soul of her entire experience at the Rafa Nadal Academy. "It is a meeting of minds, it is self-discovery and it is the fulfilment of finding a path towards success together," she says. "All with the crucial support of Babolat who, in her words, didn't simply make it financially viable to pursue her dreams, they are a community that went the extra mile for her and so many others.
"In the academy everybody is supported by Babolat, even Nadal himself. It's a brand I have always loved. They were very respectful of my previous commercial arrangements, but I had no doubts in my mind. I wanted to be with them as soon as possible."
She has a vivid memory of the first day she visited the academy in Mallorca, the place that would become her new home. She was still mulling over her decision, but the moment she saw the brand new padel courts that could be at her disposal she felt overwhelmed with joy, and in that split second her mind was made up.
Soon she was up and running, starting with physical tests which set a challenging path into an intense athletic training programme to improve her power and strength. Although she shares the gym with tennis players, she has a dedicated personal trainer who adapts exercise to her specific needs for padel. "You cannot find those machines anywhere else," she says, "because they are really expensive and they are designed for us."
New tournament the 'crowning moment'
From her mental health to her athletic conditioning, nothing is left behind. Patricia already feels that in just a few months she has improved dramatically. Looking back on her time before joining the academy, she believes she tended to rush into scoring points, which was not helping her results. Her new team helped her to visualise a different approach for the first time, building towards becoming a more confident player.
"I believe being the first ever padel player here was a good thing. Of course I was excited to do something new here, but they were just as excited to start training a young, professional padel player. So we found each other in this excitement. Together we are bringing a new perspective into the game."
From 23 to 29 May 2022, for the first time ever, the Rafa Nadal Academy will host an event on the WPT at their facilities: the TAU Cerámica Mallorca Challenger.
Patricia marked the date in her calendar a long time ago. For her it will be the crowning moment for the commitment to padel demonstrated by the Rafa Nadal Academy and Babolat. "This is the most important event I have planned this year. My family is coming to watch me compete on home soil, in amongst all my new friends who are incredibly supportive people. It will be great!"
She will be under the spotlight as the player embodying the spirit and potential of this new home for the sport. However, Patricia Martínez is confident she now has the tools to deal with this extra attention, and she is determined to fully experience this new milestone in her rising career.