Tennis commentator with Movistar+, marketing student and 2021 padel newcomer: the days are not long enough for 25-year-old Miguel Semmler Arranz, who is enjoying a spectacular journey from tennis player to being a rising star in padel.
"It is true that I am very busy," he says, "but I try to keep working on television as much as I can because it reminds me about the dream I had when I was a child."
At the age of six, Miguel devoted his life to becoming a top-100 tennis player, supported by his biggest fan: his dad. Inspiration came from tennis champion David Ferrer. According to Miguel, Ferrer built his glory on hard work and determination rather than talent: it taught him what it means to be a sportsman.
Miguel and his childhood idol have a solemn milestone in common: they both retired from tennis the same year, 2019. "I slowly realised that the lack of results was unsustainable given how much my family were spending to enable me to travel and compete."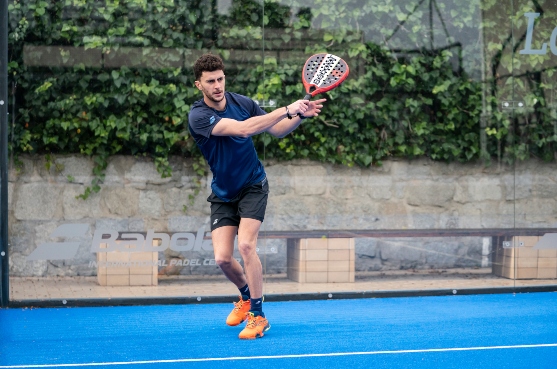 'A bit lonely'
The decision was not an easy one. However, in this difficult time Miguel benefitted from his calm mind and the ability to keep on top of his emotions. He was looking for his next step when a life-changing realisation came on a padel court.
"Tennis made me feel a bit lonely because it is an individual sport," he says. "But I only understood that when I started playing padel with my friends. You play with a partner and at the end of the day you are always surrounded by a group. I saw an exciting opportunity to do something different without starting from scratch, because I could relate to some elements of it."
Once the decision was taken, he threw himself into his new sport with the same dedication he had had as child. Nothing felt like a dilemma: not switching to different rules, nor the Covid-19 pandemic that hit Spain at the beginning of his new career, just when he needed to prove himself in competitions. On the contrary, he spent the lockdown studying padel and realised his defensive attitude was well suited to his new sport. "Padel is much more strategic than tennis. In tennis you play every ball to score a point, in padel you need to think carefully about when you should strike. It means I can focus on placing the ball and leave to my partner the scoring part. It works well that way."
This strategy was certainly a success at the 2021 Cupra Vigo Open, where he and his partner Francisco Javier Leal Perez progressed all way from the pre-qualifying stage to reach the quarterfinals: "We won eight matches in three or four days, it was really impressive. People congratulated us and supported us all the way through, I felt incredible emotions."