Leylah Fernandez would have broken all sorts of records by reaching the US Open final at just 19 – if she hadn't lost that final to a player 68 days younger than her! Canada's leading tennis journalist Stephanie Myles looks at how Fernandez's talent was recognised.

Kirsten Bjorn, a Montreal sports psychologist who works with young athletes in several sports, remembers sitting on court and coaching a very young Leylah Fernandez at an end-of-year tournament.
"She was kind of outmatched," Bjorn recalls. "I think the other girl was too powerful, even though they were both skinny little 10-year-olds. So there wasn't anything Leylah could really do and she wept through the whole match – this tiny little thing, just weeping. All I did on the changeovers was try to comfort her."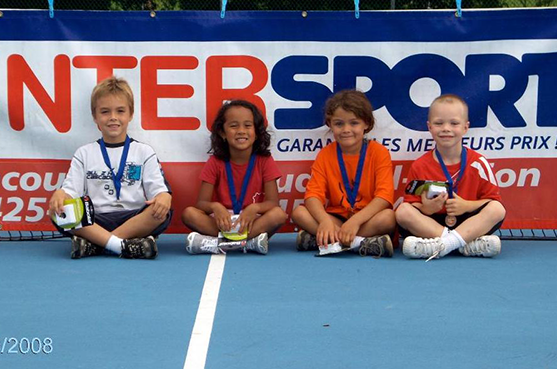 Professional tennis success generally involves a bespoke combination of talent, health, good coaching, timing – and luck. So when a slight five-year-old with the most determined look on her face comes into your Saturday morning recreational program, can you predict she's going to make it?
Anyone who tells you they can has the unfair advantage of hindsight. But you can look back and see the signs, the foundation for success being built brick by brick.
Bjorn freely admits that, consoling young Leylah at that junior tournament, she wouldn't point her finger at her and say, 'She's going to make it!' If anything, Fernandez's opponent would have been the one that day who caught the attention of someone scouting for talent and potential.
But less than a decade later, Leylah Fernandez is a junior Grand Slam champion, a WTA tournament winner, an Olympian, a Grand Slam runner-up at the US Open, and firmly established among the top 30 in the world. "Leylah always checked all the boxes," Bjorn said, "as much as a youngster can. Besides the usual mental skills, she was also super-receptive and coachable.
Determined and super-focused
What Bjorn saw, and what developmental coach Étienne Bergeron also saw, was determination. "When I see someone who's willing to really improve and really work," says Bergeron, who worked with Leylah between the ages of five and 10, "and they're like, seven or eight years old, you've got something. Because that's not how kids are today. They give up very easily. They move on quickly from one thing to another.
"Leylah was definitely super-focused. She could repeat anything I said. It was crazy, because I tested them all the time – asked them, "What did I just say?" And she would just imitate me saying it."
From the beginning, Leylah had a Babolat in her hand. A grassroots partnership between Bergeron's academy, the area tennis association and a local sports store aimed to get racquets to kids as economically as possible.
"Each (developmental) phase requires a different racquet. And the kids could go buy it for $25, and get the three balls appropriate to their age category along with the racquet," Bergeron said.
Bjorn and Bergeron, who are married, have a son a few months younger than Fernandez who was in the same training groups. The families bonded, and helped each other. Bergeron worked on Leylah's tennis, and Fernandez's father Jorge, a former soccer player who played for the Ecuador national team, helped Bjorn's and Bergeron's son Jonah with his football skills.
The families are still in touch today, and Bjorn and Bergeron take great pride in knowing they were part of Leylah's journey. "She's come to visit us at the club and met my kids," Bergeron said. "She takes time to talk to them. So for us, it's super exciting."
Lost a bunch of matches
Bergeron said the mannerisms fans see on court were there from the beginning. "That little slap on the top of the thigh and the 'Vamos!' The hopping before the serve. Those rituals, they've been the same since she was eight or nine years old," he said.
Bergeron said Fernandez wasn't one of the "hot shot" kids. "When she was growing up, she didn't win all the tournaments. She lost a bunch. But when a kid is learning how to play the game, you're going to have a win from a loss," he said.
Bjorn said Fernandez took those losses very hard, as so many kids do. But they didn't get her down for long. "She always found a way to get better, to bounce back quickly," she said.
"The kind of stuff I work on at that age is trying to get them to think about setting goals instead of expectations – and get them to understand the difference," Bjorn added. "I always ask them their dream goals. And Leylah had big goals, big dreams – back then, she dreamed of winning Roland Garros, being No 1 in the world – and playing against Rafael Nadal."
She hasn't quite got that far, but reaching the US Open final just days after her 19th birthday is a phenomenal achievement. In many ways, Fernandez paved the way for her junior contemporary Emma Raducanu to win the title – the Canadian beat three top-five players (Sabalenka, Osaka and Svitolina) while Raducanu didn't have to play anyone inside the top 10. And if you count the girls singles title, then Fernandez has already won Roland Garros. No doubt Nadal can be persuaded to hit some balls against his fellow Babolat left-hander.