If Dominic Thiem is going to reach the very top in tennis, he may need to take some risks. But then he takes risks already – like tearing down a mountain at up to 70 km/h (43 mph) on a pair of in-line skates.
'I've always loved in-line skating,' says the Austrian who was ranked third in the world when the global tennis circuit was suspended due to the Covid-19. 'The problem was there was no time, but when lockdown came there suddenly was time, so during the months when tennis didn't happen, I became a good in-line skater. It gives a lot of stability in the legs, so it may even help my tennis.'
Coming from a country with winter sports in its DNA, it shouldn't be surprising to know that Thiem took to the mountains with his skates. 'I think it's pretty dangerous,' he admits, 'I reach 60 to 70 km/h, but so far I haven't had any accidents. I have good control.'
2020 was set to be the year Thiem led a new generation to the top of men's tennis. He finished 2019 playing a high-quality final at the ATP Finals in London, and began this year by reaching the Australian Open final, where he took Novak Djokovic to five sets. But with his favourite clay approaching, medical events took over, tennis disappeared, and patience became a sought-after quality.
But then Thiem is used to being patient. At age 11, his coach Günter Bresnik decided that problems with his backhand would only be resolved by switching to a one-hander. 'For a while I hit the one-hander in practice and then hit the two-hander in matches,' he says, 'but then one day we decided I'd go for the one-hander in a tournament match.'
The switch was an act of faith. Thiem was always Austria's No. 1 or 2 as a junior, but with the new backhand he lost so often he slipped out of the top 10. But his parents and coaches stuck by him.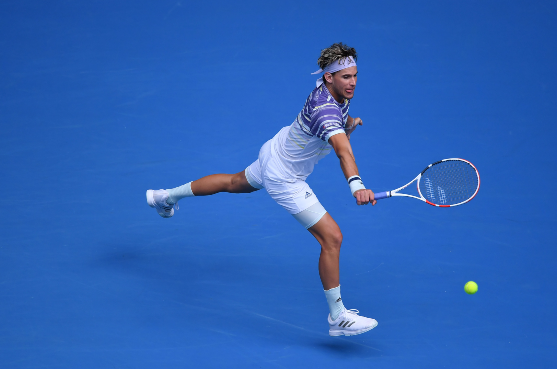 'It was very tough for the first year,' he says. 'It was a completely new shot, so I lost many matches. After a year I started to win again, but it took one-and-a-half to two years to get back to the top again. The trust was always there that it was the right decision. When I lost, my parents and coaches told me the main reason was the backhand, it would take some time and I had to be patient.'
The experience has made Thiem philosophical about the merits of the one-hander and the two-hander. 'If you are at the top already, the one-hander has a lot of advantages – you hit great slice, good volley, you have more reach, but to get to the top 100 or top 50 I think it's a bit easier with two hands.'
Thiem has been with Babolat since 2014, and his racquet and strings have evolved with his game. 'I have a lot of power from myself and my strokes,' he says, 'so I need a racquet that gives me a lot of control and stability, and that's exactly what the Pure Strike gives me. Until about a year ago I never felt I'd found my perfect string, but I've played with RPM Power for the past year, I switched to them because I wanted topspin and power, and I think I have found my perfect string.'
At 1.85m (6 f.t 1 in.), Thiem is of average height in the tennis world, but for much of his junior career it was thought he would end up well below that. He was one of the smallest juniors, but at age 14 and just 1.60m (5 ft. 2 in.), he was taken for a test to see how tall he would grow. They took some bone from his wrist, and said he would reach 1.85m. It seemed an act of faith then, but that's what he is today.
Again, it was a case of being patient – not something you'd expect from a man who hurtles down a mountain on in-line skates.