Pure Aero Lite Unstrung
Pure Aero Lite Unstrung
tennis racquet
Free delivery and return
label.freedelivery.stringing
Description
Do you want to dominate the game with ultimate spin? The 8th generation BABOLAT Pure Aero tennis racquet evolves with a unique approach engineered around the spin in your game. Join players like Rafael Nadal, Leylah Fernandez, Félix Auger-Aliassime, and Carlos Alcaraz and discover which Pure Aero racquet lets you own your spin. Ready to step up your game and embrace spin?
The BABOLAT Pure Aero Lite is a must-demo for passionate juniors transitioning into a full-size tennis racquet or adults looking for an easy-to-swing, spin-friendly frame.
Team BABOLAT pro players may play with a customized or different model than the equipment depicted.
Benefits
SPIN
A lighter-weight and aerodynamic frame for faster racquet head speed, spin-specific grommets, and an open string pattern create maximum spin generation.
POWER
The fast-swinging, naturally powerful Pure Aero Lite lets you generate more power, hit the ball deeper, and play longer.
FEEL
We added flax fibers and vibration-dampening materials to the racquet to optimize shock absorption without compromising spin or power.

NF²-Tech
Flax inserts at strategic locations in the frame create optimal shock absorption and sound quality for an exceptional playing experience.

SWX Pure Feel
New technology featuring extended wrapping of SMAC technology, the cutting-edge vibration filtration system integrated in the lay-up composition, provides an unrivaled feel at ball impact and a unique sound on every shot.

FSI SPIN TECHNOLOGY
New string pattern that adapts to the intensity of your game. The spin grommets positioned at the top and bottom of the head enable the strings to move and help you to achieve more spin. The Woofer system increases contact time between the ball and the strings for improved grip and feel.

Aeromodular 3
An aerodynamic frame integrating the bumper and grommets increases your racquet head speed and spin generation.
Technical Characteristics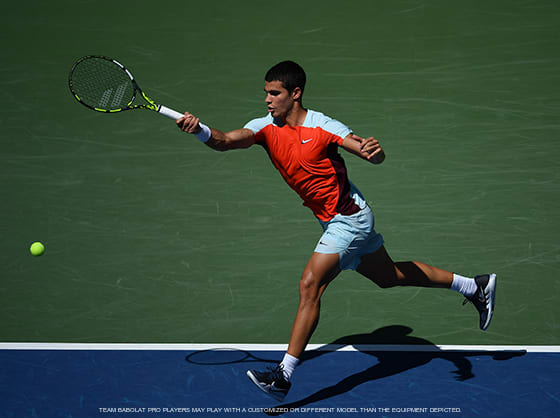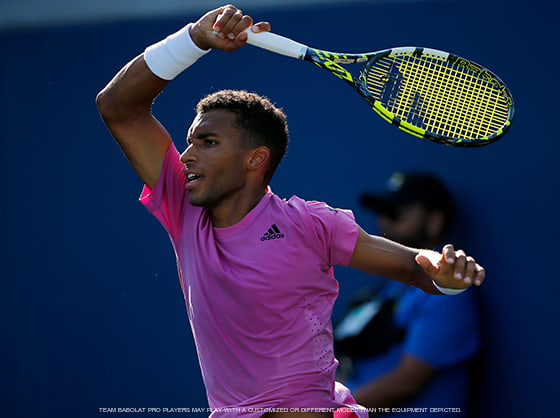 Félix Auger-Aliassime
(CAN)