Babolat's Veron 2022 range has a brand new look, with bolder colours that help visually distinguish each type of player.
The Veron range comprises three racquets: Technical Veron, Air Veron and Counter Veron.

These three racquets have been designed based on our studies, analyses and observations of players and the game of padel itself, which have helped us to understand players' needs. Thanks to these observations, not only have we been able to determine that all players are attackers, we've also identified three types of player: Technical Striker, Air Striker and Counter Striker. We've developed the perfect racquet for each of the three players in our typology.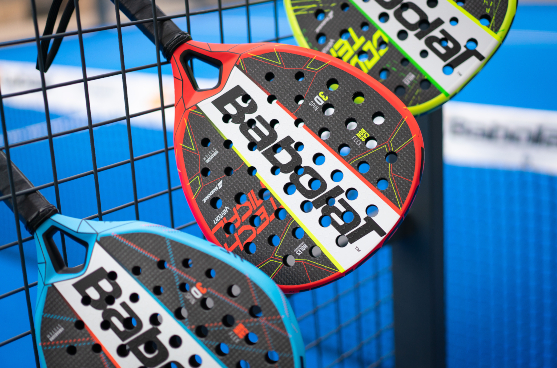 The Babolat Veron range has been developed using CARBON FLEX, a blend of carbon and fibreglass. By combining these two materials, we've created racquets that feature the advantages of both: the explosive qualities of carbon and the effortless power of fibreglass. The perfect balance for a flexible surface that provides all players with dynamic power.

The Veron line, for advanced and high-level players, is often used by our professional players during the winter season because the Carbon Flex makes the racquet more flexible and responsive, even in cold weather, in comparison to carbon-only racquets, which tend to harden in low temperatures.
The VERON range comprises three different racquets based on the three types of player.
The Technical Veron offers pinpoint precision, helping players set up the most explosive attacks.
The Air Veron provides optimal handling, making it the perfect racquet for attacking from all directions.
Finally, the Counter Veron is a racquet with high tolerance, helping you turn the game around even when you've had to withstand tough attacks from opponents.

All three of these racquets have one thing in common: DYNAMIC POWER. Carbon Flex provides optimal carbon power for all players.