Choosing the right tennis racquet will help you learn the game, improve, and have fun.
When choosing a racquet, you want to consider your ability and your height.
We make racquets for all levels of ability and experience.
You're new to tennis:
Larger head sizes and lightweight aluminum racquets make it easy to hit the ball, learn the basics, and have fun from your first day on court.
You play regularly:
Graphite composite racquets help you improve and perform as your love for tennis grows.
All-graphite racquets feature the same construction and technology as the racquets used by pros like Rafael Nadal and Dominic Thiem. They are perfect for future champions, bringing power, spin, and control to your game and prepare you for the transition to your first full-sized racquet.
Your racquet size depends on your height.
If you are just starting tennis and deciding between two racquet lengths, go with the smaller sized racquet. A smaller racquet increases control, making it easier to learn and improve.
Here's an insider tip on how to test if your racquet is the right size. While wearing your tennis shoes, hold the racquet by the grip and relax your arm, letting it hang towards the floor. The tip of the racquet head should be at your ankle (2 to 4 inches from the ground).
Demo and test racquets!
Try each racquet, testing one variable at a time. Write down what you like and do not like.
Have your parent or coach watch you play and write down their observations. Or film yourself and analyze after your play.
Finding the racquet is important: the racquet needs to adapt to the player, not the player to the racquet.
Are you a younger player? The BALLFIGHTER & B'FLY racquets come with visual tips on the racquet to help you learn the game faster.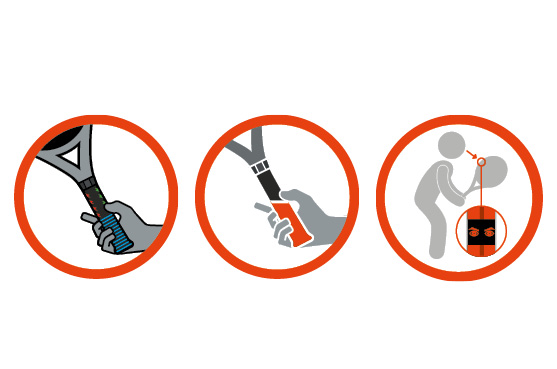 - The Memo grip (on BALLFIGHTER 17 - 19 - 21 & B'FLY 19 - 21 racquets) shows you how to hold the racquet
- The Improvergrip (on BALLFIGHTER 23-25 & B'FLY 23-25 racquets) helps you learn the right grip for each shot
- Two eyes on the edge of all BALLFIGHTER & B'FLY racquets teach you the ready position
These teaching tools are recommended by Toni Nadal, Director of the Rafa Nadal Academy by Movistar and former coach of Rafael Nadal.
"These racquet teaching aids make it easier for kids to learn tennis basics and progress fast."
Choosing the right grip size:
To find the right grip size, use a string to measure the distance between the bottom horizontal crease of your palm and the tip of your middle finger. Measure out this length and wrap it around different racquet grip sizes. When the two ends of the string perfectly touch, you've found the right grip size!
Choosing the right strings:
Strings are the "engine" of your tennis racquet. The right strings will enhance the performance of your racquet. help prevent pain and discomfort, and allow you to play your best.
Your strings matter. Choose carefully.
There are a couple factors to consider when it comes to finding the perfect tennis string.
String Material:
Natural gut has the best feel, is the most comfortable, and maintains tension better than any other string.
Multifilaments offer a nice balance of comfort, power, and tension maintenance.
Outer wraps are versatile and accessible.
Polyester monofilaments are extremely rigid and require advanced technique and strength to create spin and control. Though popular with professional players, if you're still developing or struggling to break strings regularly, there are better options to enhance your performance.
Once you've picked a string, it's time to decide your:
Higher tension increases control, lower tension increases power and spin. Recommended tension range is indicated on most racquets.
Gauge is the thickness of string in hundredths of millimeters. Thinner strings are more flexible, increasing power and spin. Thicker strings are more rigid, increasing control and durability.
We recommend string gauges between 125 and 130.
We recommend restringing your racquet as many times in a year as a you play per week. If you play 4 times a week, restring at least 4 times a year. Another way of thinking about it: you should restring your racquet every 20 hours of play. Strings lose tension over time, which can hurt the performance of your racquet and in some cases, lead to arm injuries and discomfort.
Think about this: your strings are the only part of your equipment that makes contact with the ball (even if it's only for four thousandths of a second)!
Feeling lost? Contact your local tennis shop and get their expert advice on the best string for your age, level, and game.
The equipment you choose matters. The right gear will help you learn the game quicker and avoid injury. Take lessons to learn the right technique and experiment with racquets and strings to find the combination that perfectly matches your game. But remember – only test one variable at a time.