Wolfgang Gnedt was only 10 when he received a very unusual Christmas present. It had no shiny paper and bore no illustrated card, but it created such a feeling of brightness that it has been part of his life ever since.

It will always be a fixture in the memory of the young man who is now Austria's leading badminton player – for the Yuletide gift was a coaching lesson from Jürgen Koch, the most successful competitor the country has ever had.

The lesson took place at the sports centre owned by Wolfgang's father Karl in Wimpassing, a beautiful small town about 15 kilometres from Wiener Neustadt (where Dominic Thiem lives) on the main road to Vienna.

So quickly did Koch's visit enhance the youngster's abilities that the multiple champion continued coaching him – and has now been facilitating Gnedt's progress for almost a decade and a half. Father Christmas could hardly have arranged it better.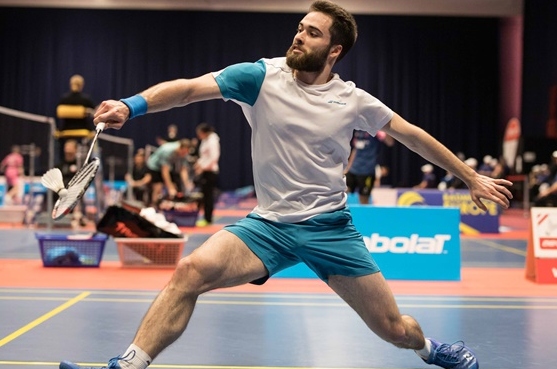 'A really hard worker'

"We had a connection," Gnedt reveals. "Jürgen can adapt to the needs of a player. He feels what the player feels. He gave the right tips at the right moments, which created improvement, and he has a lot of technical knowledge."
And so while Wolfgang was young, Jürgen would visit to coach him once a month; then two or three times a week when he was older. And since Gnedt has joined the national team in the last two years, they have seen each other still more often.

"He's found out what he needs to do, and he's a really hard worker," Koch says, adding that he thinks his protégé, currently ranked in the 180s, could reach the world's "top 50 or top 20."
This apparent ambiguity may be interpreted thus: although Gnedt's first major aim is to reach the world's top 50, it is only the top 32 who these days play in major tournaments –and that is the level at which he would like to compete.
"Maybe he will tell me if he has higher goals," Koch says. "I think he could. He may not be the most naturally gifted player, but he makes up for it with very good competitive tactics and discipline."

Competitive ambitions have not been hindered, Gnedt insists, by taking over from his father as Chief Executive Officer of the Wimpassing sports centre last year – even if the business had developed a lot. It now has facilities not only for badminton, and for tennis and squash, but for a highly popular fitness area – plus the shop which sells Babolat products. The club is called 'Moving', a suitably ubiquitous name for its various activities.

'See what works better'

It sounds like a lot of extra work for an ambitious player to manage, but Wolfgang has help from his brother Rüdiger. And when he needs to train, there are clear benefits – access to good courts, good equipment, and sparring partners, and the helpful ability of club members to see him, which enables them to keep personal contact with him.

"I think it's a good co-operation," Gnedt says. "We try to work together and see what's working better, and what we can still make better."
'Moving' also enables him to make a regular journey north to play for AskoTraun, Jürgen Koch's Bundesliga team. "He is a very good team player," Koch says.
"And as a person he is very fair. He has problems if something is not fair. As long as he likes the sport he will really give it all he has."

Koch adds candidly, "But sometimes it is not so easy to change things for him, especially something he's not 100 per cent sure is right. But he is self-aware, and can laugh about failure."
Gnedt can accept criticism too. "It's true," he acknowledges. "When I follow a system I follow it well. But flexibility I admit is difficult, even if it's to my benefit. This is something I lack a little bit, to make it work.

"But if I have a losing streak I try to take some benefit mentally,"he concludes. "I stay positive."
And on that Koch and Gnedt agree. The Christmas present has not lost its sparkle.