Sitting between two indoor courts at Japan's national sports training centre in Tokyo, Taro Daniel picks up a bottle of water from the table and takes a swig. It's a humid early evening in June at the beginning of the rainy season, and the Japanese tennis star has just wrapped up a day of training.
"Now I'm living all over the place, I wanted a change of energy. I enjoy being in Tokyo," he says. "I have a lot of friends here. They are not tennis people, so I get to experience normal life a little bit."
The interlude in the Japanese capital also allows Taro some precious time away from the pressures of the ATP Tour and to reflect a little on a year that has been filled with both triumph and tragedy.
Last October, his Japanese mother, Yasue, passed away after a two-year illness.
"Interestingly, for the first couple of months, I didn't have that much grief," he says. "Because when somebody is ill and suffering that much physically, there is also a sense of relief when it is over for them."
Taro took the rest of the season off before returning for the Australian Open in January. This year has seen the 30-year-old play some of the best tennis of his 13-year professional career. He reached the quarterfinals in Acapulco after dispatching the world number four, and reached the third round at the Masters 1000 events in Indian Wells and Miami, eliminating two Grand Slam finalists.
The power of meditation
Even though he is remembered by many for beating Novak Djokovic in 2018 – the same year he reached a career-high 64 in the singles rankings after capturing his sole ATP Tour title in Istanbul – he believes he is a more well-rounded player now.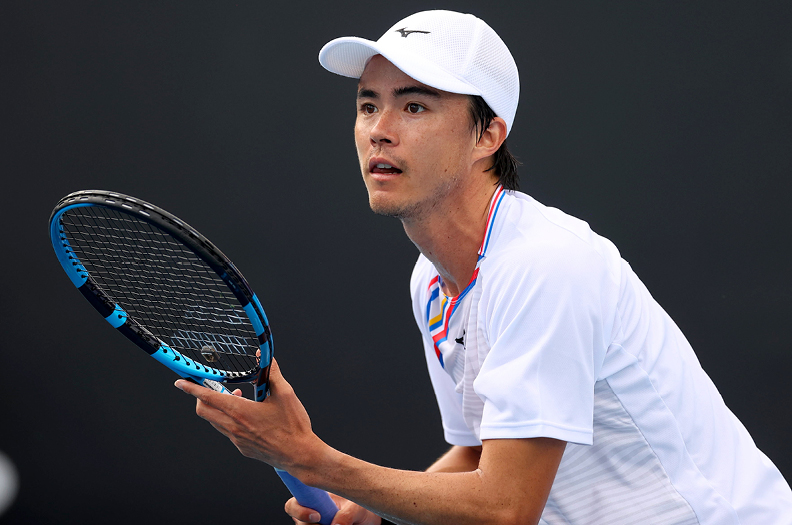 "Beating these top players, or even taking a set off Carlos Alcaraz [at this year's French Open], I really felt like I was there with them in terms of the level and was superior to them in some areas," he says. "I was consciously pushing back and trying to do different things in order to win."
Taro credits the English coach Jackie Reardon with his transformation. A former player and the author of Mindset: A Mental Guide for Sport, she worked with Taro for two years from the end of 2020. Through Reardon's guidance, he says, he came to appreciate the power of meditation while learning how to "not be too hard on yourself."
The result is a player who appears more relaxed and self-assured. "Over those two years, I really learnt a lot about life but also about thinking how to [defeat opponents]," he explains. "I didn't think I could be a player who hits aces or constantly comes to the net or hits clean returns. Those are things that I do on occasion now and, I believe, why I am able to stay on the circuit."
My Pure Drive is my longest relationship!
Born in New York, Taro Daniel spent his early years in Japan, where he first picked up a racquet at 7 years old. When he began to take the sport more seriously, his American tennis coach father introduced him to the Babolat Pure Drive.
"I have used Pure Drive since I started tennis," he says with a broad smile. "It's crazy to look back. It's been over 20 years. Apart from my family, it's been my longest relationship!"
The family relocated to Spain when Taro was in his early teens, a period that shaped him as a player. The country is also where he mastered his third language, after English and Japanese. Despite his linguistic skills and globetrotting lifestyle, he says the influence of his Japanese upbringing remains strong.
"People think I'm super international and easygoing, and it's true in some ways," he says. "But I'm probably more Japanese than the other Japanese players in the way I approach tennis and other things in life. But it takes a lot of energy out of me, and it's always a battle to not be too harsh on myself."
With a fresh outlook on his game, Taro says he hopes to keep playing professionally for at least another five or six years, and possibly until he's 40.
"I feel like the last year and a half has been the first time I have been making decisions based on my own interests," he says. "There have been challenging decisions, but I do enjoy the circuit and get along with many players. That's a big part of why I like going to the office."
Team babolat pro players may play with a customized or different model than the equipment depicted.