For a man who was probably playing badminton in the womb – certainly since he was two – Jürgen Koch has a simple philosophy: he wants badminton to be fun.
Listed among his interests are 'reading books', and one of the books he recommends most to friends and associates is Eckhart Tolle's 'The Power of Now', a self-help manual about being in the moment. If ever a film were made about Austria's most successful badminton player ever, it could easily be entitled 'The Power of Fun'.
"If you play badminton with someone of the same age, you can have fun," the 49-year-old from Linz says, "certainly more fun compared with many other sports which are much harder to learn. Even with people of different ages and different levels, you can still have a good game. Badminton lends itself to that.
"If I'm coaching youngsters, one of my methods is that we try for long rallies, because badminton is much more fun when you hit the shuttle back and forth 20 times than if you try to win with your first shot. When kids notice that they're hitting the shuttle a lot, they get confident and play better. I try not to be a figure of authority but a person who has a healthy respect for the people I'm interacting with, that I appreciate them and can joke a bit with them."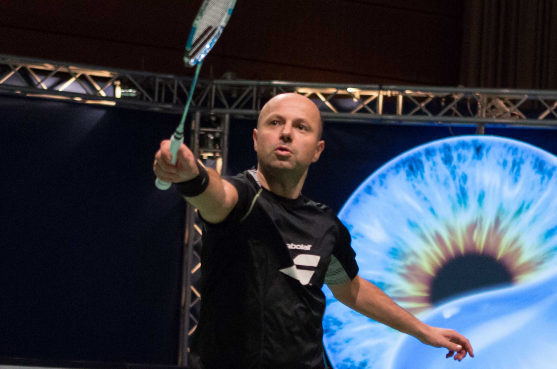 Embarrassment with Babolat
Jürgen Koch is very much a pioneer in both Austria and with Babolat. With 44 national titles, four international singles titles and nine international doubles successes, he is Austria's most successful player, though having been his country's sole world-class player for much of his career has meant his greatest value could come in later years when his experience helps develop new generations of Austrian talent.
He was also one of the first four international ambassadors for Babolat, when the company branched out into badminton in the mid-1990s, and he remains with the company both for his own equipment and as a sales agent in Austria and Germany. Having said that, the relationship very nearly died before it was born.
At a sports retail trade fair in 1995, Jürgen wandered up to the Babolat stand and showed an interest in Babolat's famous gut strings. The Babolat representative wandered over to him and said "Those are our best strings, even Jürgen Koch plays with them." Jürgen smiled and let the sales rep continue explaining, until a couple of minutes later the Babolat boss arrived, recognised Austria's badminton icon and ended the embarrassment.
Jürgen's relationship with Babolat is built on the ease he found of working with the French brand in his early years as Babolat's exclusive agent for Austria. "The quality of the rackets was good, and the shuttlecocks were both durable and consistent in flight. And when you have good shuttlecocks, that's a very good indication of quality."
These days, Babolat has a 70% share of the Austrian shuttlecock market, which Jürgen says "gives us an incredible visibility and contact with so many clubs."
Legacy
Like many national No 1s, Jürgen has had a mixed relationship with his national federation, but experience has brought about a mellowing – and again fun was at the heart of it.
"I was outside the federation for a long time," he says, "because I wasn't comfortable with everything that was going on. But there was a change in the personnel there, and there was probably also a change in me – I saw that it's not good to have the top players not working in harmony with the body responsible for development. For me it's very important for people to have fun, especially the youngsters who are the future, and once the people in charge were willing to embrace my culture, there was scope for us to work together."
His own achievements will one day be surpassed by someone he has helped, whether that's one of the current promising 16-20 year-olds in Austria or someone from the generation following on. His biggest satisfaction from his playing days comes from being ranked high in all three disciplines: 23rd in singles, 21st in men's doubles (once with his elder brother Harald and once with Peter Zauner), and 5th in mixed doubles.
As for his legacy, again the F-word comes back. "I see badminton as the best tool to give others joy," says Jürgen Koch. "That is my aim. I want more people to play, and for them to have fun playing. The importance of fun should be my legacy, so I hope others continue this philosophy – not just in Austria but worldwide – after I've gone. We talk about 'playing badminton', and the word 'play' should mean 'fun'."