Jennifer Brady grew up in Pennsylvania before joining the Chris Evert Academy in Florida. Plagued by a bad temper, she has been able to gradually overcome her shortcomings and develop her mental strength to become one of the world's best players. Spotted by Babolat at the age of 12, Jenny has reached great heights in the sport of tennis, in particular at the Grand Slams with her Pure Aero racquet. Despite being sidelined for two years because of a serious foot injury, the American has now made a remarkable comeback on the WTA Tour.
As a child, Jennifer Brady was an extremely talented player. However, it took her a while to acquire the self-belief she needed for her game. After growing up in Harrisburg, Pennsylvania, she moved to Florida to train at the Chris Evert Academy. "At the Academy, my coaches kept telling me I had the potential to become a great player," she says. "But I needed to find my game. I had a bit of a temper as a kid, and wasn't really the toughest mentally. So the big shift in my career has been being able to stay tough in tough moments, close out tough matches, and just fight my way back regardless of the score."
A Grand Slam final and semi-final
Jennifer Brady was spotted by Babolat at an under-12 tournament played on clay. Her ranking wasn't all that great, but Seth McKinley, who at the time was the Sports Marketing Director for Babolat in the USA, was one of the people who believed in her potential. Seth went out on a limb (given Jennifer's modest junior ranking) and offered the 12-year-old a contract with Babolat. Since then, Jenny has remained loyal to the brand's racquets, playing with Pure Aero.
This racquet has helped her achieve her best results, in particular between 2020 and 2021. The American won a tournament in Lexington, Kentucky (International level) in August 2020, her only trophy on the WTA Tour, before reaching the semi-finals at the US Open a few weeks later. In February 2021, she had the "best tournament of her life" at the Australian Open, where she reached the final.
The American astonished the tennis world with her run, and despite being so close to getting her hands on the trophy, seemed satisfied with her performance: "I think I belong at this level," she declared less than an hour after leaving the court. "Obviously I was nervous, and things didn't go my way today. But at the same time, coming off the court, I felt like that was where I was supposed to be, and I wasn't expecting that. If you'd asked me a year ago, I wouldn't have thought I belonged in a Grand Slam final. It was totally impossible."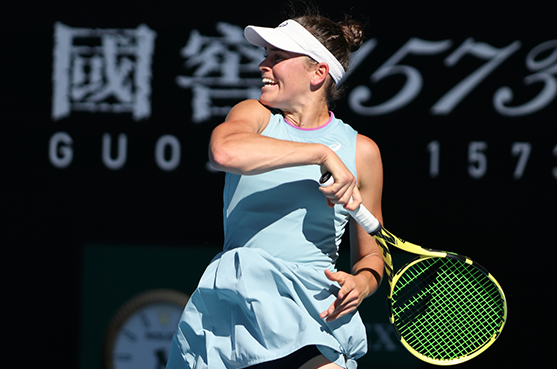 The outstanding result could be traced back to 2019, when the American stepped out of her comfort zone by teaming up with Michael Geserer, a coach from Regensburg in southern Germany. Compared to the sunshine of Florida, winters in Bavaria can be quite harsh - even if they are perfect for skiing.
Thanks to Geserer and fitness trainer Daniel Pohl, Jennifer's level has soared. "Obviously, we're doing good work," she explains. "My ranking has only gone up since I started working with them. I've always had the strokes, but it's more about putting it all together and making it more solid, and doing the same things in every single match. Kudos to them for pushing me day-in, day-out."
After a lengthy break between August 2021 and July 2023 due to a serious foot injury, Jennifer Brady is making her comeback during the North American hard court season: "I'm super thrilled. It's about damn time. Before my first match back, I was super nervous, but on the court, I felt great." At 28, Jennifer Brady still has a bright future ahead.
Team babolat pro players may play with a customized or different model than the equipment depicted.