Henry Searle, 17, caused a sensation on the lawns of Wimbledon. The Briton won his first Grand Slam Junior title, beating another young Team Babolat talent in the final, Yaroslav Demin (6-4, 6-4). It was an unexpected victory for the left-hander, who had no real expectations at the beginning of the week.
But after eliminating the tournament's number 1 seed in the first round, Henry Searle started to believe he could go far in the tournament. The title, however, was definitely not on the mind of England's new prodigy of tennis. "I didn't expect this result this week. I'm going to enjoy the victory for a few days, then get back to work and try to win more titles." Henry isn't really looking ahead, but instead will concentrate on his next few tournaments on the junior circuit before getting ready for the US Open Junior Championships. Henry has definitely been gaining steam at the slams as a junior. He lost in the first round of Wimbledon in 2022 and reached the quarterfinals at the 2023 French Open before finally triumphing on Court 1 of the All England Club this year.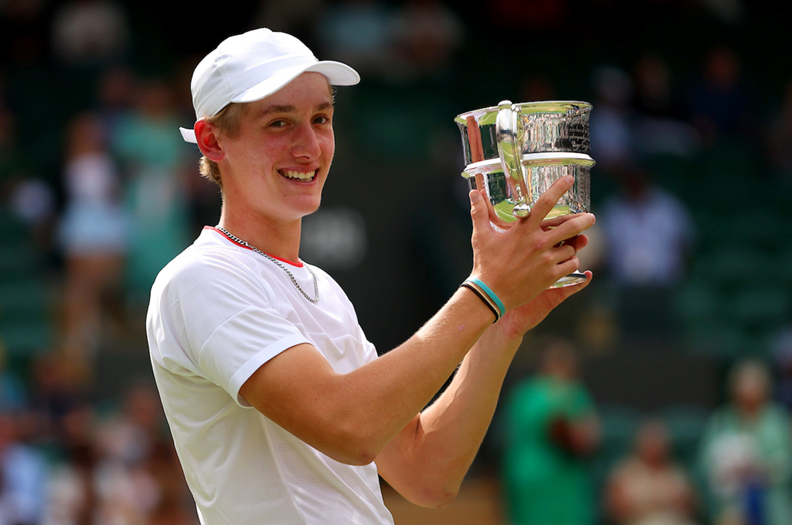 A serve clocked at 130 mph
At 6'4", Henry Searle enjoys a considerable advantage when serving. "My serve is a crucial part of my game. I've been working on it for several years with my coaches, and it's really starting to pay off." The Briton notably hit a 130 mph serve during the Wimbledon Junior final. Nevertheless, things didn't always come naturally for Henry, who experienced a major growth spurt during the recent pandemic. "It took me a while to get used to my body; I was pretty uncoordinated."
England can celebrate. For the first time in 61 years, a British player has won the Wimbledon Boy's Singles Championships. A die-hard fan of the Wolverhampton football club, Henry received some words of encouragement from the club's Spanish coach Julen Lopetegui before the final. After his victory, Henry made a point of thanking his supporters: "To receive such support here at home, and to be encouraged by an amazing coach like Julen Lopetegui, is a real honor. I'm a big Wolves fan; I always try to go to their games with my friends when I'm not away."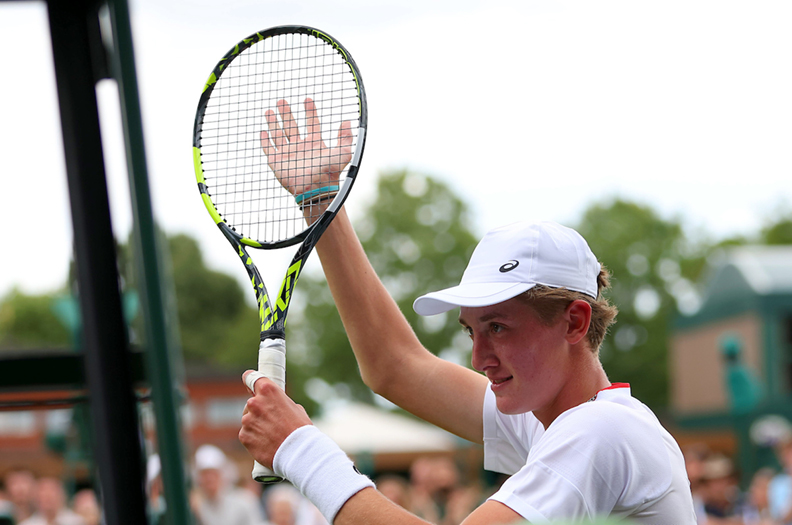 "Rafael Nadal? He was my idol."
An avid golfer and footballer, Henry has always been involved in top-level sports as his mother was a competitive swimmer. "Maybe that's where I get my quick shoulder from when serving," he joked in his post-tournament press conference. Spotted in the stands at the final alongside his brother, Henry's mother looked very emotional. A detail not lost on the Briton. "I loved having them by my side and supporting me with smiles on their faces. They've helped me a lot, and I hope to share more moments like that with them in the future. When I was younger, I was a bit of a nightmare, which is why I got into tennis and sports in general." As a youngster, Henry was especially fond of one player: Rafael Nadal. "Rafa was my idol. I think he's a role model for any young person who takes up tennis." As if to emulate his mentor, Henry opted for a Babolat Pure Aero, just like Rafa at the start of his career: the Pure Aero 98, fitted with RPM Blast strings. A winning combination also used by a certain Carlos Alcaraz...
Team babolat pro players may play with a customized or different model than the equipment depicted.