In an era when most badminton stars play only singles or doubles, Chloe Birch is a very notable exception.
The 24-year-old Briton has won the women's singles title at the English National Championships for the last four years and the women's doubles crown for the last two, in partnership with Lauren Smith. And Birch and Smith could well be in the frame for medals at the rescheduled Tokyo Olympics.
It was in singles that Birch first made an impact on the international stage. Some fine performances at the 2018 Commonwealth Games in Australia helped England claim the bronze medal in the team competition. Now the growing success of her doubles partnership with Smith has seen them race up the world rankings to eighteenth.
That would have enabled them to qualify for the Tokyo Olympics if they had taken place this year, but the postponement means Birch and Smith will have to go through the qualifying process again.
Chloe is, though, confident of success. 'We are a comparatively new partnership and it will be helpful to have another year's experience,' she said. 'It has always been my dream to be an Olympian. Being an Olympic sport has made a huge difference to the profile of badminton.'
The lockdown caused by the coronavirus pandemic also had some unexpected benefits. 'It was very strange not to hit a shuttle for 14 weeks,' she says, 'but my boyfriend James and I had just bought our first house together, so there was plenty of opportunity for us to practise our do-it-yourself skills and also our cooking.'
Birch is the youngest of three children and says her siblings, Daniel and Lauren, were both sporty and she was dragged along behind them. She tried a wide range of sports and it was not until she was 12 or 13 that she started to concentrate on badminton. She adds that it was being the youngest that gave her a competitive streak: 'I always wanted to beat them,' she says.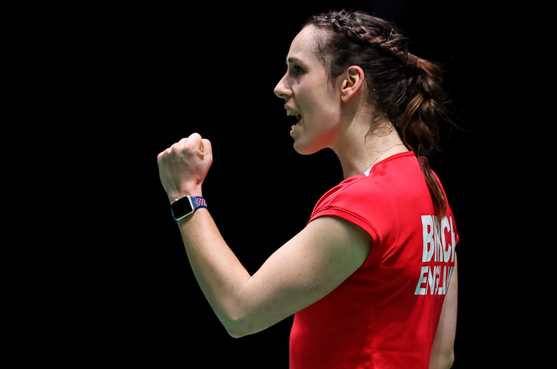 You know where you stand with Chloe Birch, but then she grew up in Yorkshire, the area of England known for its natives who speak their mind. She describes herself as pretty chatty, and agrees she can be feisty on court. 'I could never shut up at school,' she says, 'and I was brought up in Yorkshire so what would you expect!'
There is also plenty of Yorkshire grit in her style of play. She will often hurl herself across the court in desperate defence, simply refusing to accept that a point is lost. She is a fine example of how hard work and dedication can enable an athlete to reach heights that were perhaps unexpected, and her willingness to help those who have helped her is demonstrated by her turning out for Yorkshire in county matches whenever she can.
Once the World Badminton Federation's Grand Prix circuit returns, Chloe's immediate aim is to crack the world's top 10 in women's doubles. She admits the prize money she and Lauren Smith have picked up in the last year has been very useful: 'I do receive support from UK Sport but with no fixed salary it is difficult to plan my finances.' She was therefore very pleased to renew her sponsorship with Babolat in January, and her Yorkshire directness means you know she's not just being polite when she says 'They're a great company to work with.'