Carlos Alcaraz continues to surprise us. After winning the US Open in 2022 at just 19 years of age, becoming the youngest ever world number 1, the Spaniard continued his winning ways in 2023. Carlitos has already won 6 titles, including two Masters 1000, at Indian Wells and Madrid, and one Grand Slam, at Wimbledon. Despite his outsider status and limited grass-court experience, he has adapted and triumphed. This latest victory demonstrates his ability to adapt to any situation, no matter how difficult. Always smiling on the court, Carlos embodies a new, attractive and ambitious style of tennis.
"Continue with the same passion as at 18."
When asked where he sees himself in 10 years' time, he replies: "I hope to win plenty of Grand Slams and fight for the number one title, while also continuing to play with the same passion as when I was 18."
A succinct answer, though one that speaks volumes. "Win a lot of Grand Slams", "fight for the title", "play with the same passion as at 18." A state of mind reminiscent of another Spaniard...
Juan Carlos Ferrero, world number one in 2003 and winner of the French Open that year, took the young Carlos Alcaraz under his wing when he was 15 years old. It's a winning duo, as the two have been together ever since. With his Babolat racquet, comparisons with Nadal were inevitable. Even in the way he expresses himself, Alcaraz calls to mind the Majorcan in his youth.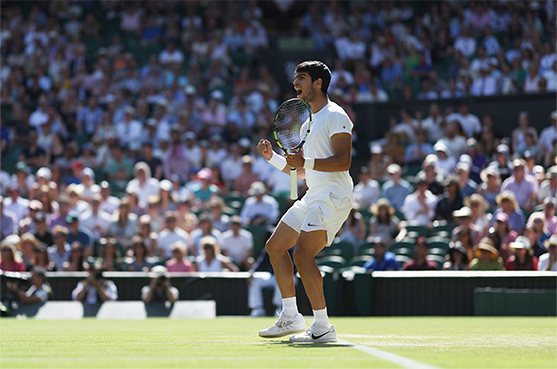 The future Rafa?
Does being compared to Nadal create pressure or motivation? "Neither," replies Alcaraz. "I know there will never be another Rafael Nadal. I want to make a name for myself in my own right."
The differences in his game set him apart from his elder. Carlos Alcaraz displays a greater ability to get to the net than the holder of 22 Grand Slam titles. Always smiling on the court, Carlitos seems to get a childlike pleasure out of every spectacular point he wins.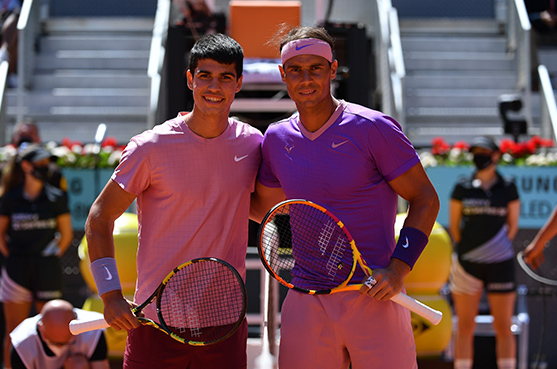 Young players often dream of playing against their idols. Carlos Alcaraz couldn't have asked for a better present for his 18th birthday. On 5 May 2021, he met Rafael Nadal on the Manolo Santana centre court at the Madrid Open. Though he was beaten 6-1 6-2, the experience brought him to the attention of the Spanish public, much to the astonishment of some.
"I'm sure Carlos will go a very long way," said his illustrious compatriot after his victory. "He's a complete player. He's courageous and has no hesitation about coming to the net a lot, and that's without mentioning his excellent forehand and fearsome backhand."
A recipe for success
Rafa then invoked the salad theory to better explain who Carlos Alcaraz is and the player he has the potential to become.
"For a salad to be really good, you need to put a lot of ingredients in it. Carlos has all the ingredients needed to become an excellent player. That's what's essential."
Alcaraz remembers signing his first contract with Babolat in 2013, when he was just 10 years old. He spent nine years playing with the same racquet, the Pure Aero, before switching to the more precise and accurate Pure Aero 98 in 2021. I wanted to have a bit more control," he explains. I saw that this racket had an extra string and wanted to try it out. I liked it and decided to start using it. I really love it because the ball leaves the strings fast, and it also gives me more confidence and control.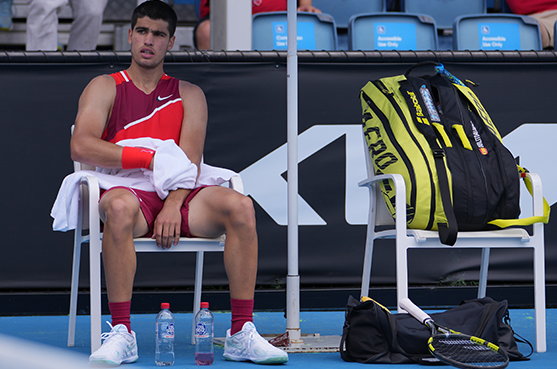 Team babolat pro players may play with a customized or different model than the equipment depicted.
DISCOVER THE RANGE PURE AERO