Predicting the future in tennis is notoriously difficult but Cameron Norrie has proved himself to be a rare talent on and off the court in 2021.
Asked at the beginning of the year which ATP player could have a breakout season, Cameron said with a slightly sheepish chuckle, "I would like to say myself. I think I'm going to have a breakout season this year. It's obviously a big statement, but I'll back myself and see how it goes."
It could scarcely have gone any better. Beginning the year outside the top 70, Cameron won one of the biggest titles in tennis at the BNP Paribas Open in Indian Wells in October to climb to 16th in the rankings. It was his second title of the season in his sixth final and cemented his elevation to the very top tier of the sport at the age of 26.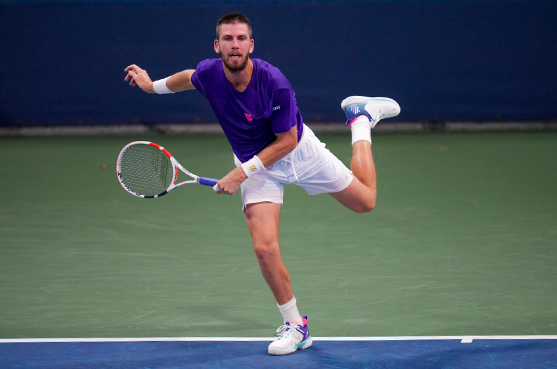 Cam, as he's known on the tour, has never been afraid to voice his ambitions, saying after reaching two finals on clay in the European spring, "The goal is world number one, not British number one."
The latter position was achieved when he won Indian Wells, and he will keep targeting the former, putting on court his relentless physical approach and Nadal-like ability to play each point on its merits.
Sawn-off squash racquet
Cameron's tennis journey began on the driveway of the family home in Auckland, New Zealand, where he would hit a ball around with a sawn-off squash racquet.
His British parents, David and Helen, were both talented squash players while Helen's running abilities also rubbed off on young Cam, who played a variety of sports as a child. It was tennis where he shone the brightest, though, and a gradual progression saw him reach the top 10 of the world junior rankings, playing with Babolat racquets from the age of 12.
At 16, aware of the difficulties of embarking on a professional tennis career from New Zealand, Cameron made the decision to move to London and base himself at the British tennis authorities' National Tennis Centre.
In 2013, he formally switched allegiance to represent Great Britain. Having spent the first three years of his life in South Africa, it is no surprise that Cameron describes himself as being "from everywhere".
Thrust into an intense tennis environment in a new country, he struggled to find happiness on and off the court, but that changed in 2017 when he took up a scholarship to study sociology at Texas Christian University. The US college system helped him rediscover his love for tennis and, when he decided to turn professional in 2017, he was the number one ranked singles player on the US college circuit.
"It allowed me to grow up a little bit more," he said of his time in Texas. "Life's not all about tennis. I was burnt out from tennis a bit after the juniors and I felt like I wanted to do something else. College helped me learn to love the game again. I was lucky to have two great coaches – David Roditi and Devin Bowen – to guide me in the right direction. They got me on track."
'I always believed he was unbelievably good'
TCU was also where he met the Argentinean Facundo Lugones, who was initially his team-mate but has been his full-time coach since turning professional. "I always thought he was unbelievably good," says Facundo. "It was just a matter of when things were going to click and if he could stick to the things that are working and stick to the process, just not giving up, not being let down by tough moments like we had in the past.
"He always had a bigger vision. He always woke up the next day and brought 120 per cent regardless what happened the day before. When you have someone with that ability, I think there are no limits."
Cameron adapted to life on the professional circuit straight away, cracking the top 100 within a year of leaving college. Progress was then more gradual prior to 2021's surge up the standings. "I think honestly doing it this way, getting slowly, slowly better every year, improving little things, I don't think I've missed anything, made any big jumps," said Cameron.

"I've been working extremely hard. I've got a lot of great people around me who are wanting the best for me. We're taking care of all the little details on the court, off the court, and we all have the same goal in mind.
"When that all comes together, it definitely helps. Everyone's got the same passion for tennis and the same will to win."