Passion in tennis takes many forms, but few are as heart-warming as the initiative of Benedict Nteza in a rural area of western Uganda.
Ben was a teenager when he saw tennis being played on the television. It was Wimbledon 2018, and the player on his screen was Rafael Nadal. Inspired by what he saw, he found an old racquet and a couple of balls, and began hitting against a wall in an attempt to "play like Rafa".
Ben's village is in Kyegwegwa district, more than three hours from the capital, Kampala, and a long way from the nearest school. As a result, most of the local youngsters don't go to school. But when they saw Ben hitting tennis balls, they wanted a share of the fun – and they asked Ben to teach them tennis.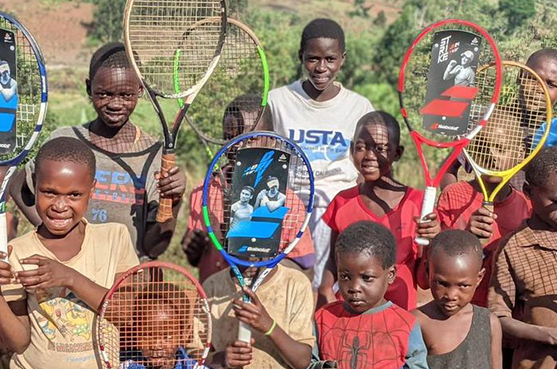 What happened next is inspiring.
A sheep for a tennis court
"It was a big challenge," recalls Ben. "I had fallen in love with the game when I saw Rafa on the TV, but we had no courts.
"I had no money by then, so I decided to sell one of my sheep to buy some land where we could put the tennis court, so children could come and practise every day."
The land he bought was on clay soil in mountainous forest. Together with two helpers, the three had to dig very deep in the ground to rearrange the soil in order to create a flat surface.
But they got there, and had enough space for two courts. The lines are marked out with sand, and the net is a piece of string with a few pennants on it, tied to two cut-off tree branches acting as net posts. "The quality of the court is not very nice," Ben says, "it's not a professional court, but it's good because we play on it."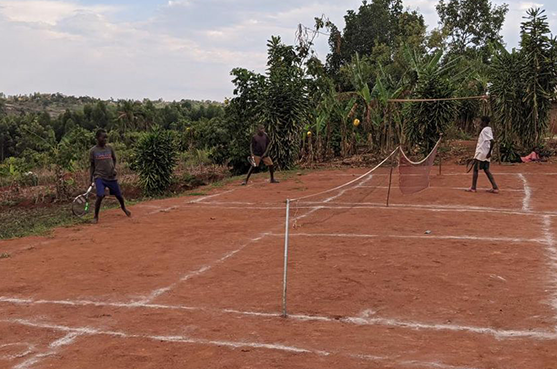 And they do play on it. The local kids may have no school, but they have tennis instead which provides a focus for their days. Some cycle half an hour each day through dense forest to play.
News reaches Babolat
Ben is one of the lucky ones. He did get an education at the Sacred Heart Seminary in Mubende district. There he learned about the internet and set up an Instagram account, on which he posted photos of his home-made tennis courts.
One day, Babolat's Digital Media Manager Fanny Benincasa was scrolling through tennis accounts on Instagram, and she came across Ben's initiative. "I instantly loved it," she says. "I messaged them saying it's inspiring to see their love of tennis, and I established contact with Ben and his brother John."
Fanny asked her colleagues to collect new and used Babolat products – racquets, balls, even a net – to send to Ben and his tennis community. Everyone was so keen to help that she ended up filling six boxes. At the same time, she commissioned a videomaker in Kampala to go to the village, deliver the boxes, and make a three-minute film about Ben and his young players as part of Babolat's 'In family we grow' series.
"Tennis means a lot to me from my heart," says Ben in the video, "because it's taught me how to be helpful to the community here. Most of the children don't have the opportunity to go to school and get an education, but tennis's presence can help to uplift the community.
"We have not gone far, but where we have reached, it is very nice so far."