4 Min. Lesezeit
Veröffentlicht am
17.10.22
Living in Argentina and dedicating yourself 100 per cent to padel is very difficult. And as a woman, it is almost impossible.
This was the case of Virginia Riera, number 11 on the World Padel Tour, who, when she lived in the South American country, shared a house with her mother, as well as working. Padel was a pleasure and a passion, but it didn't make her much money.
Everything changed when she decided to try her luck in Spain, testing out a well-known formula in padel: Argentinean raw material, Spanish market.
"In Argentina, as in most Latin American countries," Virginia explains. "Everything costs a lot, the economy is not as stable as it is here. If you want to play padel and make a living from it, you end up leaving. Hopefully that will change, now that there are more circuits I think it will give more players the chance to dedicate themselves to padel, and maybe they can do it living in Argentina. But there is still a lot of work to be done for that."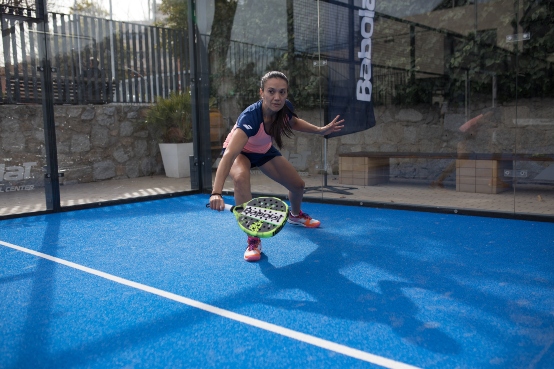 'I asked myself what I wanted to do'
Making the leap to Spain wasn't easy. She had no money to spare, and she was full of doubts. "I never imagined myself living in Spain and dedicating myself 100 per cent to padel. In Argentina I had my job, in an office, in front of a computer, and I was comfortable with that, to be honest. I was living with my mother, and I had some sponsors, so in the afternoons I trained, and at weekends when there were tournaments I travelled to compete on the professional circuit in Argentina. Moving to another country would have meant a move away from my family and friends, and starting from scratch, and I wasn't ready for that.
"My decision came when I wanted to change jobs, and I asked myself what I wanted to do. I always had the uncertainty of knowing how far I would go if I would dedicate myself fully to padel. So I decided to try a year with the sport, and today I feel that was the best decision I could have made."
But while things are good now, the early months as a professional based in Spain were not easy. She had to share a flat, and supported herself with savings and help from her family.
Virginia is aware that her sport is changing. "Obviously it's super important for our sport to be as international as possible, and I think it's taking big steps towards that. I'm very happy about it, and it's another motivation for all of us who are dedicated to this. The fact that more people are interested in our circuit will make us grow."
'I want my mum in the stands'
2022 was a special year for Virginia Riera, a player who defines herself as "defensive", although she loves "counter-attacking and playing with changes of pace". She was finally able to move out and live on her own, as she had been sharing a flat.
"I have a very quiet life, my day-to-day routine is training, and I enjoy it very much – the training, the group. Year by year we have more competitions and we spend a lot of time away. But when I can, I like to spend time with my friends and also spend time at home.
But there's still a dream, something she wants with all her heart. "I feel I owe a lot to padel, because it has always given me good things. But a dream I have yet to fulfil would be to win a tournament and have my mum in the stands. I know she's happiest because of my achievements, but she really enjoys watching me play, and having left my home with her to be the best padel player I could be, it would complete the journey for her to be there when I lift a trophy."