4 Min. Lesezeit
Veröffentlicht am
14/05/22
Hugo Sconochini's is not an extraordinary story, it's a unique story – unless there is someone else today who is passionately dedicated to teaching padel after having been the captain of a basketball team that won gold at the Olympic Games.
Hugo Sconochini is a 51-year-old Argentinian who spent most of his basketball career in Italy, and who today speaks Spanish with the accent of an "Azzurro". He lives in Milan and says he feels "the same passion for padel" today as he did for basketball in a career that peaked in Athens 2004, when Argentina defeated the US "Dream Team" in the semi-finals and Italy in the final.
World club champion with Panathinaikos and Euroleague champion with Virtus Bologna, Hugo had such a successful career that he could rest on his laurels today. But then that's impossible for a man who relates to sport essentially through passion.
"Without passion you can't do anything, without passion you can't be competitive," explains the Argentinean. "I never thought I would be able to become what I was in basketball. But today I don't miss it at all, not at all. It's like a love that's over.
"My relationship with padel was born out of something wrong, like all things. I met Gustavo Spector, another Argentinian, and he told me he'd like me to teach the kids at his school how to prepare physically for a sport. And so I started doing that."
'He convinced me doing nothing was not an option'
But then something unexpected happened: "A boy died doing physical training at another club nearby. I didn't know him or his coach, but I was so shocked and felt so bad for the coach who had to deal with the death of one of his kids that I stopped coaching youngsters in physical training. I guess I feared it might happen to me.
"It was Gustavo who convinced me that I couldn't just stop, that doing nothing was not an option. He offered to teach me how to play padel, a sport I'd never played in my life. 'You'll see that you can do it,' he told me, and he was right – I started to teach padel. Everything I am today I owe to Gustavo. He discovered a part of me that I didn't know I had, that of teaching. Today I am a padel teacher, and I love it. I would love to play it differently, but I'm 51 years old."
Like Gustavo Spector, Hugo is a member of the global Babolat family, and is particularly complimentary about Babolat's padel racquets – "the racquets are super technological and state-of-the-art," he says.
What about the competitive urges of the elite athlete he once was? How does he control them? "I compete in some tournaments if I have time. And I would like to compete in some important tournaments, but I don't have the technical or physical level to be on the court with today's players," he admits.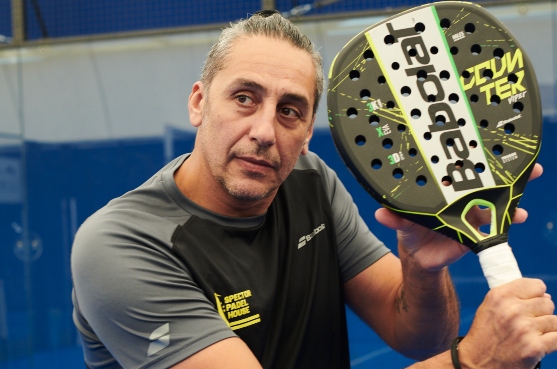 Beyond just a coach
Thus Hugo's competitiveness is channelled mainly into teaching. And as a padel teacher he wants to emulate the best coaches he had in basketball: "Coaches who gave me a lot of things, who not only taught me how to play, but who taught me how to interpret life. People who went beyond being just basketball coaches."
Hugo Sconochini clearly enjoys padel. "I like the glass component of paddle, I love the walls, I love that you have to be an accomplice with your partner, understand each other very well, there are a hundred square metres to cover. It's a tremendously tactical game, easy to play and difficult to understand. I love it because it's immediate, it forms groups, people can play it and have fun."
Hugo has two children: Matilda, 20, and Oliver, 18. Oliver plays basketball, but his father prefers not to watch him, as he doesn't want to take his attention away from him. "When I go, he's more focused on me than on his game. Oliver loves basketball, maybe more than I did when I was his age."