The town of Pornichet on the southern coast of Brittany has a population of just over 10,000, which might lead you to think the local tennis club would have just a couple of courts and maybe a few dozen members. Think again.
Ninon Tennis Club, situated just 300 meters from the seafront and even closer to the town center, has 16 courts, including eight under cover, nearly 600 enthusiastic members and a program of coaching and tournaments that would be more typical of a successful big-city club.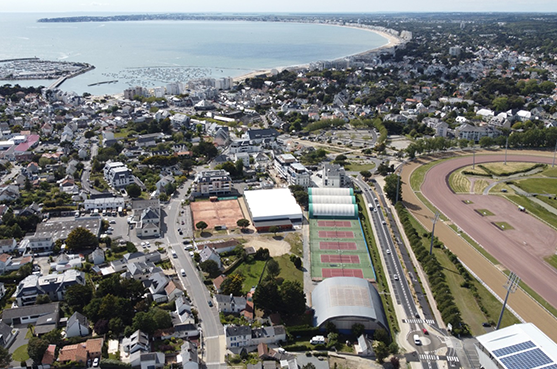 For the past 10 years, Babolat has sponsored the club. You might say it's a good commercial arrangement, and it is. But it's more a meeting of philosophies, in which two tennis entities – each with a history going back well over 100 years – fit seamlessly together. A tennis match made in heaven.
"We're very attached to Babolat," says Yvan Cuny, Ninon's general manager. "It's a French brand and we like that, they produce quality products, and they're a family business. We steer our members towards Babolat products – 95 percent of our players, whether children or seniors, play with Babolat racquets. We only play with Babolat balls and our teams play in Babolat apparel.
"We have an association with a pro shop in La Baule, which is about 10 minutes by car. If people ask our coaches about new equipment, we have Babolat racquets for demo, and if they like them we point them in the direction of the shop. We also have our own little pro shop where we sell Babolat balls and Babolat apparel."
The respect and affection works in both directions. "TC Ninon is the perfect partner for Babolat," says Yoann Chartron, the head of Promotions & Partnerships for Babolat France. "They do a great job of teaching the game, promoting the benefits of the sport, and creating a welcoming and family club environment. We want tennis to be fun, and we know players have a great time when they go to TC Ninon."
Meeting seasonal demand
TC Ninon was founded in 1914, and is so successful that, even with eight hard courts and eight clay, there are times when you have to be quick to get a game. During school holidays, particularly in the summer, visitors flock to Pornichet to enjoy its glorious beaches and multiple attractions, including the tennis club with its sparkling new clubhouse and excellent playing facilities.
"When people are on vacation they often like to play sports," says Yvan. "Other resorts like La Baule and Le Pouliguen are just up the road from us. We get a lot of visitors here and families who want to play tennis, so we have to be ready to meet the seasonal demand. And a lot of people come to live in Pornichet to escape the city – there's a very high quality of life here."
In normal times tournaments are staged at Ninon every week during school holidays, with the summer especially busy. The biggest tournament, in July, can feature up to 1,200 players. The club usually fields more than 30 teams in departmental, regional and national competitions, with the age of players ranging from seven and eight-year-olds to veterans in their 70s. Some are very successful, hardly surprising when you consider that two-thirds of Ninon's members have regular coaching from the club's three full-time coaches.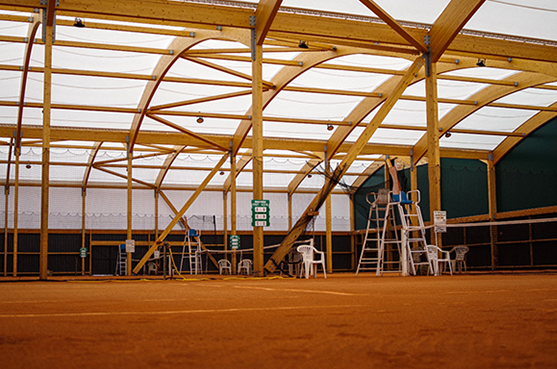 It takes a city
Like most tennis clubs in France, Ninon's courts are owned by the local council. Ninon's members elect a committee to run the club and employ staff, but the biggest financial burdens fall on the council. The Fédération Française de Tennis made a contribution towards Ninon's new clubhouse, but 90 per cent of the costs were met by the town hall.
"The big advantage for tennis players of this arrangement with the local authority is that it makes it less expensive to play, because the members don't pay for the premises," Yvan Cuny says. "Full membership for 12 months, including the chance to play at any time, costs just 345 euro. It's generally much more expensive to play at a private club."
And there's one other element of this match made in heaven – Babolat's top names are all exemplary role models. "Look at Nadal, Tsonga, Thiem and Kenin," says Yvan – "they are all a great example of sporting values, and we like feeling that we're all part of the same family."
Charton sums it up nicely from the Babolat perspective, "As the TC Ninon team is close to consumers, we're able to talk to them about trends, innovation, and how we can continue to improve our products. It doesn't hurt that the club is in a gorgeous part of the country, so we're always happy to visit and play some games."