Remember his name. Dino Prizmic, one of the top 300 players in the world at just 17, has a very bright future ahead of him. The Croatian, born on 5 August 2005, was outstanding at the 2023 French Open Juniors. A few years previously, in 2017, Dino won the Open Super 12 d'Auray, the prestigious French tournament that brings together the best prodigies under the age of 12. Felix Auger-Aliassime, Kim Clijsters, Alizé Cornet and Rafael Nadal were all title winners in Brittany at the start of their careers. Dino has another thing in common with the king of clay: he is 1.85 m (6 ft 1 in) tall, as is Carlos Alcaraz, the other prodigy of this new generation. Dino has also opted – like Carlitos – for the Babolat Pure Aero 98, fitted with RPM Team strings. His wildest dream is, of course, to win the French Open.
Fifteen wins in a row and three titles on the professional circuit by the end of 2022
A member of the Babolat family since 2016, Dino has enjoyed a remarkable rise. Brilliant in the junior category, the young Croatian was able to put the full range of his talent on show prior to going on to accomplish great things on the secondary circuit. He won 25 out of 26 matches at the end of 2022/beginning of 2023, which included finishing 2022 with 15 wins in a row! It was a very special period for the young player, who won his first four professional titles – three of which came at Monastir in Tunisia – during this time. Having moved up to the next level by playing a string of events on the Challenger Tour, Dino then returned to the Junior Tour for the 2023 French Open. It was a choice that paid off, as he won in Paris after a near-perfect performance.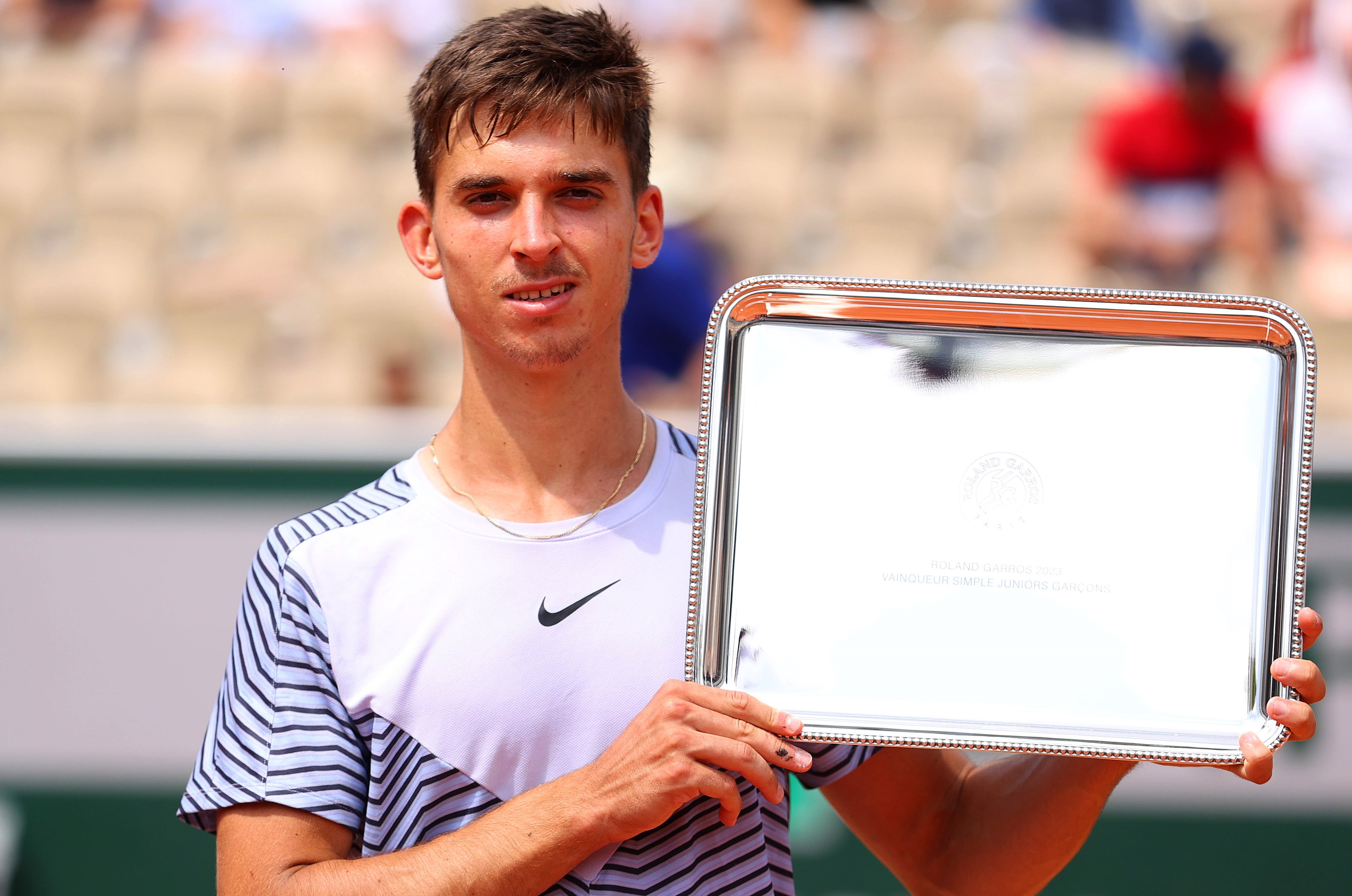 "Every ATP player either plays or has played more than me."
Dino Prizmic stands out in the game for the depth of his strokes and the power with which he strikes the ball, both when serving and during rallies. At 17, the Croatian already has the physique of a young man ready to take on the world's top players. By his own admission, however, he still has a long way to go before he can compete with those players: "I've spent a lot of time on the courts but every ATP player either plays or has played more than me. For the moment, I need to train more and get more tournament experience. I need to play more Challengers to gain experience. Winning the French Open as a junior isn't enough to reach the men's level; I need to be more aggressive." Dino is ambitious and displays above-average maturity, enabling him to make day-to-day progress as he establishes himself among the professionals, and this despite the pressure he has to shoulder, given his greater-than-average potential. "Even though I know how to play, I still feel pressure. There are so many people around me who want to see me play well. I'm doing my best, but pressure is part of tennis."
Team babolat pro players may play with a customized or different model than the equipment depicted.